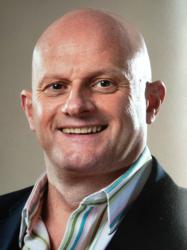 The club will be a haven of sport, health and leisure for all the family and we can't wait to open the doors to members.
London (PRWEB UK) 2 July 2012
David Lloyd Leisure has appointed Wayne Isaac as general manager for its latest club in Worcester, which will create at least 70 jobs in the community.
Worcester Warriors fan Wayne, who is general manager at David Lloyd Dudley, will take the helm at the £8m state-of-the-art club currently under construction next to the rugby team's Sixways Stadium.
"I'm very excited about becoming part of the Worcester community and building some good, strong relationships," says Wayne. "The club will be a haven of sport, health and leisure for all the family and we can't wait to open the doors to members. We will do our utmost do make every visit a truly memorable one.
"On a personal note, I'm absolutely delighted that I'll be running a club that is right next door to my rugby team's home ground. Work locations don't get much better than that!"
David Lloyd Worcester will create between 70 and 80 full and part-time jobs, with vacancies for a senior management team, a junior management team - including a lead coach, DK Kids and swimming co-ordinators, and tennis pros – and gym instructors, personal trainers, front of house, food and beverage and cleaning teams.
"I would urge potential candidates to keep an eye out for opportunities, which will appear on our website careers portal at http://www.davidlloyd.co.uk. I'm particularly keen to recruit from the surrounding area because it's very important to us that we are a key part of the local community," says Wayne.
Welsh-born Wayne, 48, moved to Worcestershire as a teenager and has previously worked as a general manager in the retail industry. He joined David Lloyd Leisure in 2007 and has also headed up its Oxford club.
Due to open on December 1, David Lloyd's new gym in Worcester will be a stunning 5,600sqm development with extensive indoor and outdoor tennis facilities; indoor and outdoor heated swimming pools; a fitness area and a dedicated zone for children's activities.
With three indoor and five outdoor tennis courts, David Lloyd Worcester will offer families some of the best tennis facilities in the region. The Tennis All Stars programme, accredited by the Lawn Tennis Association (LTA), will be available to children aged 3-11 and adults will also be offered instruction from a dedicated team of LTA-qualified coaches.
The swimming facilities will comprise a 25m indoor pool and a 20m outdoor pool, offering a range of activities including aqua aerobics, family swim times and quiet adult swim sessions.
David Lloyd Leisure's All Stars Swimming for children, fully endorsed by the Amateur Swimming Association (ASA), will be taught by a team of qualified coaches and will cater for all abilities from absolute beginner to advanced improvers. Coaching and aqua-based classes will also be available for adults.
A key feature in the club will be the 900sqm gymnasium, which will house the very latest fitness equipment, including an extensive range of assisted resistance and cardiovascular equipment, free weights and Power Plates™.
Gym Instructors will be on hand at all times to provide guidance while a team of qualified personal trainers will offer a more bespoke service for those needing help to achieve specific, individual goals.
To complement the gym, a full programme of exercise classes will cater for a broad range of tastes and abilities. There will be three studios, with one dedicated to the popular class of spinning.
Family sits right at the heart of the David Lloyd Leisure brand and, as a result, children are always welcome. In addition to the structured, progressive coaching available via the All Stars programmes, children are also encouraged to get involved in DL Kids, the club's activity programme for youngsters. Sessions will take place in a dedicated DL Kids zone and will be scheduled to synchronise with the adult programme to ensure that the whole family are occupied for the duration of their visit. There will also be an outdoor play area plus a crèche.
Other facilities will include two physiotherapy rooms and a wet spa area, including a sauna, steam room and spa. There are also plans for an exclusive area for adults offering a salt steam room, a saunarium, sauna, ice machine and large spa pool.
A DL Cafébar lounge area, featuring an outdoor terraced area, will offer members and their families a place to relax and socialise with friends and enjoy a healthy meal or refreshments. A comprehensive menu, with one designed specifically for children, will also be available.
Ends
For further information about this press release, contact the DLL press office on press(at)davidlloyd(dot)co(dot)uk or tel 01707 289833.
About David Lloyd Leisure Group
The David Lloyd Leisure Group operates 80 clubs in the UK and a further 10 clubs across Europe.
David Lloyd Leisure has over 450,000 members and employs 6,000 people. This includes an expert health and fitness team of over 1,800 while it contracts the services of more than 400 tennis professionals.
Across all clubs, David Lloyd Leisure has over 150 swimming pools (of which half are indoor) and offers over 10,000 exercise classes per week. Every week 20,000 children learn to swim at David Lloyd Leisure and 14,000 learn to play tennis. Its racquets facilities are unparalleled with 700 tennis courts as well as 180 badminton courts and 140 squash courts. Additional facilities include health and beauty spas, club lounges with free internet access, crèches, nurseries and specialist sports shops.