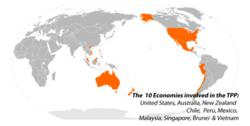 Now, more than ever, the professionals who speak both English and Spanish will be more marketable in an increasing competitive world. The good news is that with intensive Spanish Immersion programs, a person can learn Spanish in just few weeks
Los Cabos, México (PRWEB) July 03, 2012
During the G-20 reunion, Mexico was invited by the United States to join the Trans-Pacific Partnership (TPP). It's obvious the bilateral relationship between Mexico and the United States is stronger than ever, but this will have impacts in both economies and cultures and a mexican Spanish school offers a competitive advantage for American professionals. 
Aiming to further liberalise the economies of the Asia-Pacific region is the only trading initiative of the president Barack Obama administration and one of his priorities in foreign policy as the TPP is the first important multilateral free trade agreement for the USA since NAFTA.
If this agreement is successful, it will open the door for USA and México to participate together in the most dynamic market in the world: the Asian market. But the reality goes beyond that. The TPP is key to balance the dominant presence of China in the world.
"With new generation trading standards, which includes topics like intellectual property protection, anti-corruption standards, data-protection, economic freedom, rules of origin and labour standards, the countries have to work on the integration of their chain of supply", says Delgado.
This will have a deep impact in the labour market. For instance, American professionals now have a very good reason to start learning Spanish since they will be working more closely with Mexicans, Peruvians, and Chileans professionals.
"The TPP is like the modernization of the NAFTA (North American Free Trade Agreement) for both countries," says one expert.
According to World Travel & Tourism Council, G20 economies could boost their international tourist numbers by an additional $122 million, generate an extra $ 206 USD billion in tourism exports and create over five million additional jobs by 2015 by improving visa processes and entry formalities.
"Now, more than ever, the professionals who speak both English and Spanish will be more marketable in an increasing competitive world. The good news is that with our new intensive Spanish immersion programs, a well dedicated person can learn Spanish in just few weeks," says Juan Carlos Delgado.
Speaking both languages will help professionals in all the countries involved in the Trans-Pacific Partnership to integrate their chain of supply much better.
For additional information about Soléxico's Spanish language schools, visit http://www.solexico.com.  Soléxico offers 4 fantastic destinations to experience Mexico. Every week there are open classes for everyone at all levels.
About Soléxico:
Soléxico was founded in 1997. Since then, its mission has been to provide the best quality instruction of Spanish as a second language.
Contact:
Soléxico, Spanish Language Centers
Calle 6 entre Av. 35 y 40 Col. Centro, Playa del Carmen, Quintana Roo, México. 
USA/Canada Toll Free 1(877) 266-8988
http://www.solexico.com