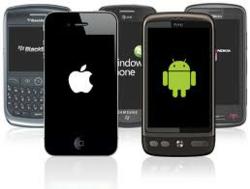 We want to make it easier for customers to contact us when they are away from home which is where most auto glass damage occurs
Minneapolis, MN (PRWEB) July 11, 2012
Move over Laptop and Personal Computers, here comes the Smartphone. Smartphones are now becoming just as powerful as their desktop counterparts. Last year Smartphones outpaced computers in sales for the first time and the trend is expected to continue.
Approximately 80% of all people own a mobile phone. There are 91.4 million Smartphone users in the United States, which every 9 out of 10 people use them every day. The most common Smartphone usage is texting, followed by internet browsing and playing games. Smartphone users are so obsessed that 33% use their phone while they are watching TV, 1 in 3 people would give up chocolate in order to keep their Smartphone and 39% use it while going to the bathroom.
Statistics such as these is the reason many businesses can no longer ignore this rapidly growing market. Typically mobile-friendly websites were only used by the news media and large corporations, "We believe our customers deserve all the modern conveniences and we do our best to give it to them," says Rick Rosar, president of Rapid Glass in Minnesota. "We want to make it easier for customers to contact us when they are away from home which is where most auto glass damage occurs."
Because Smartphones can utilize WiFi as well as 3G and 4G capabilities, more users are buying products for their home with their Smartphones instead of pulling out the Laptop or firing up their PC. For example, if a consumer is remodeling their home, they can quickly access their Smartphone to research or purchase Home Windows, Mirrors, Shower Doors or any service that they may need. "Being a member of the IGA, and networking with other managers and shop owners has put us ahead of the curve," explains Rick. "The IGA will even host member websites for free." With the right strategy and a little know-how, Small businesses can compete with the much larger competitors; all they have to do is provide a little Quality 'Mobile Service'.
For 25 years, Rapid Glass has been one of Minnesota's premier Glass Replacement and Repair Specialists. We provide Quality Same Day Service for all of your Auto, Home or Business Glass needs. Our Customer Service representatives are friendly, knowledgeable and will handle all the paperwork and assist the customer with reporting their loss to ensure they are getting the full benefit that their insurance policy provides.