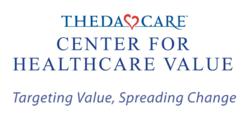 "It was exciting to see industry leaders from the U.S., Canada and five other countries convene on this important work." - Mike Stoecklein, director of Network operations for The Center.
Appleton, WI (PRWEB) July 02, 2012
Five hundred healthcare leaders gathered in Minneapolis in June for the Third Annual Lean Healthcare Transformation Summit, hosted by The ThedaCare Center for Healthcare Value and the Lean Enterprise Institute. The two-day conference featured several keynotes, two plenary presentations and breakout sessions on a variety of lean management topics. Attendees also enjoyed a welcome reception and luncheon roundtables.
"This was a great breakthrough collection of sessions that challenged my lean thinking," said one participant. Others also had positive comments about the Summit's invaluable takeaways and networking opportunities.
KEYNOTE SPEAKERS
The keynote presentations featured industry leaders who shared their experiences and expertise on lean healthcare.

John Toussaint, MD, CEO emeritus of ThedaCare and CEO of the ThedaCare Center for Healthcare Value.
Harold D. Miller, Executive Director of the Center for Healthcare Quality and Payment Reform, President and CEO of the Network for Regional Healthcare Improvement, and Adjunct Professor of Public Policy and Management at Carnegie Mellon University.
John Shook, CEO of the Lean Enterprise Institute and recognized as a true lean sensei.
Read Q&A with Dr. Toussaint and Harold Miller.
Plenary speakers Jim FitzPatrick, former president and CEO of Mercy Medical Center – North Iowa, and Alice Lee, vice president of Business Transformation at Beth Israel Deaconess Medical Center, talked about results in their own organizations, with a focus on involving frontline staff.
CEO PANEL
Day two of the Summit featured a CEO panel of top leaders from four health systems across the United States and Canada:

Paul DeChant, MD, Sutter Gould Medical Foundation
Rachelle Schultz, Winona Health
Michel Tétreault, MD, St. Boniface General Hospital
Joan R. Magruder, Missouri Baptist Medical Center
BREAKOUT SESSIONS
Building on this year's theme of "Experiments Transforming the Industry," Summit participants also took part in breakout sessions focused specifically on experiments from providers in the Healthcare Value Network, from the Netherlands and Brazil, and transparency organizations in Wisconsin.
Next year's summit is scheduled for June 5-6, 2013. Watch for details in coming months.
The ThedaCare Center for Healthcare Value brings together the most thoughtful leaders in business and healthcare to drive value-based healthcare.