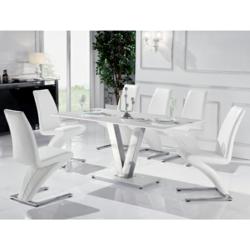 FurnitureInFashion Launches Pure White Dining Table
(PRWEB UK) 2 July 2012
FurnitureInFashion, the UK's leading online furniture retailer is fulfilling another dream to make designer living room more affordable with the recent launch of a fashionable but inexpensive white dining table. FurnitureInFashion is on a mission to make designer living a possibility for everyone in the UK. In keeping with that mission, the company has launched Venus white glass dining table at extremely affordable price. On the launch of venus white dining table , Asad Shamim, the owner of FurnitureInFashion said," Why should designer furniture only be enjoyed by the wealthy people? With FurnitureInFashion, reasonable prices do not signal a compromise on quality, comfort and style."
The venus pure white dining table has a toughened safety glass that provides a hard and durable wearing surface. This dining table is also available with 6 stylish chairs providing the coziest dining experience.
The chairs have sleek structure and take minimum of space due to their modern design. Asad says," Our new range of pure white dining tables make a strong impact in any setting. These dining tables with modern and cutting edge design are the epitome of timeless and classic elegance. We consider bringing designer living experience in every home in UK as our priority."
FurnitureInFashion has taken care of safety aspect as well by installing a safety glass top and heavy duty glass base with dual supports. In addition to this, to provide safety to the floor from scratching, the white dining table has been equipped with feet as well. Asad Shamim had a great success with all other dining table designs. From traditional to contemporary, FurnitureInFashion has offered beautiful dining tables with comfortable chairs and exquisite style. Their success encouraged the company to work out creatively and bring the designer and elite look in the dining table by using white color which speaks for sophistication and elegance. The most attractive feature of the pure white dining table is that it can settle in well with any home theme from wooden/walnut to contemporary sleek theme. The owner of FurnitureInFashion said," FurnitureInFashion uses modern inspiration and materials from the natural world to bridge the gap between fine and casual dining with strong colors and sculptural form." This is why the white dining table is bound to settle in with any given theme.
The white dining table is available in different sizes which make it ideal even for a small apartment. FurnitureInFashion has constructed these tables by targeting every standard dining room size so that most of the people can enjoy the luxurious dining experience. Asad said the addition of white dining table was a response to growing consumer demand for a fashionable, elegant and luxurious dining experience. He appreciated the creative interior designer's team of FurnitureInFashion who invested their invigorating professionalism in manufacturing of the white dining table with a quality which is affordable for every income group.
FurnitureInFashion provides a fantastic delivery and customer service which has further enhanced the confidence of people over this company. For FurnitureInFashion, Asad says, the prime motto is premium furniture, premium living. The company is here to provide high quality and stylish furniture at prices everyone can afford. The new pure white dining tables with or without chairs are now available in varying sizes at the showroom and at the online catalogue. FurnitureInFashion is offering discounts and other offers on these tables along with other furniture items as well. The customers can browse through the pictures of white dining tables to get the details of its manufacturing and other features.
To browse the full selection of pure white dining tables and other accessories currently available, visit the website: http://www.furnitureinfashion.net