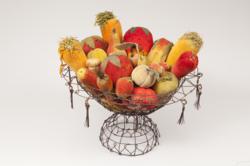 "There is such a wonderful variety of antiques at this show."
Manchester, NH (PRWEB) July 01, 2012
Lauded by ELLE Decor Magazine for its "top notch" American antiques, the New Hampshire Antiques Show, scheduled for August 9-11 at the Radisson Hotel, Manchester, returns for its 55th year. Presented by the New Hampshire Antiques Dealers Association (NHADA), the show features 68 dealers of high quality American antiques, including folk art, fine ceramics, country and formal furniture, paintings and prints. The antiques show attracts thousands of buyers and enthusiasts from around the country seeking high-quality antiques at reasonable prices. Show hours are: Thursday, Aug. 9 – Friday, Aug. 10, 10 am - 7 pm; and Saturday, Aug. 11, 10 am – 4 pm. Admission is $15 on Thursday, $10 on Friday and Saturday. Visitors under 30 (with proper ID) are admitted free. Free return visits to the show are available after initial admission. For more information, visit http://www.nhada.org.
New this year is a special event with a group of the region's top interior designers, who will be available Friday, Aug. 10, from 2 - 5 pm. Each designer will join an individual or small group to walk through the show and offer advice about decorating with antiques. "There is such a wonderful variety of antiques at this show, and these pieces can work beautifully in either a traditional or a contemporary setting," says Andi Axman, editor of New Hampshire Home, sponsor of the tour. "Having a group of interior designers from New Hampshire, Massachusetts and Maine on hand is a marvelous opportunity for homeowners to tap their expertise and get great advice for making the right purchases."
Two new dealers join this year's show: Jonathan Trace of Portsmouth, NH, who specializes in antique American silver, 17th-early 19th century American furniture and 17th-18th century American and European art; and Pratt's Antiques of Victor, NY, specializing in 18th and 19th century country furniture & decorative accessories.
About the New Hampshire Antiques Show
Managed by a team of dedicated volunteers, the New Hampshire Antiques Show caps a week of antiques, auctions and shows known as Antiques Week in New Hampshire, a tourism draw for the state, attracting dealers and collectors from around the country, hoping to find that perfect piece of Americana. One dealer calls the show "the perfect storm" – bringing together highly reputable dealers who, with a keen interest in educating visitors about antiques, save their most prized wares for the event. Plus, there's no sales tax.
Exhibitors offer a wide range of country and formal antique furniture and accessories including clocks, folk art, paintings and prints, textiles, woodenware, nautical and scientific items, metalware, glassware, pottery and ceramics, early lighting, samplers, Shaker furniture and accessories, decoys, architectural and garden ornaments, and books about antiques. Each exhibitor is an NHADA member, adhering to the highest standards of the antiques business, celebrating the long tradition of excellence in quality of merchandise, and committed to engaging with show customers to promote knowledge and good will. Media sponsors for this year's show are Antiques & Fine Art, Design New England, New Hampshire Home, and The Magazine ANTIQUES.
About NHADA
NHADA is the one of the largest antiques organizations of its kind, with nearly 300 in-state and out-of-state members. Members are committed to business integrity, as well as building awareness and appreciation of articles of antique value.
High resolution images available at ftp.lfreemanmarketing.com; user name: NHADA
password: Antiques1*