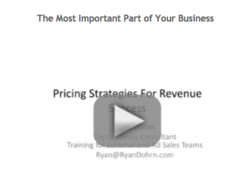 It's important to have ROCK SOLID FACTS to back [everything] up. Stats, facts and stories...all are crucial to explain your pricing and why your service is worth it.
Austin, TX (PRWEB) July 05, 2012
Shweiki Media teams up with industry expert Ryan Dohrn to present this training video offering publishers pricing techniques that will help achieve revenue success. The video explains ways to go about approaching potential advertisers and discusses how to most effectively deal with issues such as value and the competition--all to get the contract, seal the deal and profit in a competitive market.
PRICING STRATEGIES FOR REVENUE SUCCESS
1. Getting Accurate Comparisons
It's important to create strategies for pricing that make sense from a sales perspective. What is important for a business to consider is how it's SIMILAR to the competition and how it's DIFFERENT. To do this, it's necessary to get the accurate pricing of your competitors. How is this done?
Well, one way would be asking competitors to trade media kits, with the idea of working together for the greater good. Are they going to cooperate, however? Unlikely.
So another option is to create a recon email address/alternate persona for communicating with the competition. Then put together a competitive grid/matrix in Excel and compare everyone.
2. Train The Sales Team
It's crucial to know the competition's weaknesses and strengths and prep, prep, prep! Train the sales team. Now, contrary to popular belief, the most experienced salespeople are often the ones that need to be trained the most. Years in the business can create blinders or tunnel vision, and it's important to keep an open mind.
3. Pricing
First of all, what's being done that's SO different to justify the higher price? It's important to have ROCK SOLID FACTS to back it up. Stats, facts and stories...all are crucial to explain your pricing and why your service is worth it.
Secondly, one shouldn't think the competition "always discounts." Accurate statistics and details are needed because often advertisers will even lie about discounts they're getting from the competition to get a discount.. Don't fall into the "discount trap"; get the nitty gritty on what's really going down.
Another tip: Price per quarter.
4. Show More Value
No matter what the competition's price is, it's important for a business to explain why it provides more value with its questions, voicemails and spreadsheets. How is this giving the customer more bang for their buck?
Some secrets to show more value include not showing "a la carte" or "per unit" pricing. Also, beef up digital pricing.
Finally, prices have to LOOK right. When it comes to tricks, this is an oldie but a goodie: No matter how it's spun, $19.99 looks less expensive than $20 while $2395 looks cheaper than $2400.
5. Stop Apologizing
Don't be hesitant and don't be apologetic about pricing if there are FACTS to back it up.
6. Create Co-op Programs
If these don't exist for a client, create them. Allow a local retailer to run ads and a national manufacturer to pay for them.
7. Drop Frequency
It's an oft-misunderstood concept , but it's the way it's always been done. Eliminate confusion and offer multimedia discounts and the best print price available. Make it easy.
8. Path of Least Resistance
Stop assuming advertisers are going to understand pricing and create sales offers that are straight-forward, easy to understand and offer VALUE. Don't blame the competition.
9. Keep in mind the 4 Pillars of Sales Success:
Product.
Process.
People.
Price.
Click here to watch the entire video on pricing strategies for revenue success.
Shweiki Media's mission has always been to help publishers improve by providing the most profitable, hassle-free printing experience possible. This includes guaranteeing the highest quality product, exceptional customer service and on-time delivery.
As a printer and publisher, Shweiki Media also believes that this hassle-free experience includes making their clients better. Utilizing relationships with industry experts, Shweiki Media strives to educate clients and help them thrive in the exciting world of publishing--while having lots of fun along the way! (shweiki.com)