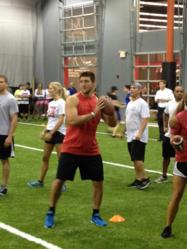 Having a first-class company like XGrass to go with our amazing athletes and facility made for a pretty great opening day at D1 Orlando.
Dalton, Georgia (PRWEB) July 09, 2012
XGrass the leading supplier of recreational surfacing, is proud to announce the that D1 Sports Training chose XGrass to install 13,500 square feet of synthetic turf and 7,000 sq.ft. of athletic rubber flooring at their newest location in Orlando. The D1 Orlando training facility at 940 Williston Park Point, Lake Mary, FL, hosted a private training event on June 24th from 1-4 pm with co-owner Tim Tebow present to meet members.
"D1 is second to none when it comes to athletic training facilities and their continued efforts to promote healthy lifestyles for not only athletes, but people in all walks of life," states Jimmy Weekley, Business Development for XGrass. "XGrass is honored and excited to be a part of the D1 team. Both of our organizations are young, dynamic, and growing – and both supply customized solutions for our customers."
XGrass' synthetic turf delivers superior performance for multi-use or high-use fields. The fiber XGrass utilizes prevents fiber splitting which is the main culprit in premature wear on fields, providing D1 with a durable training surface. Designed to twist when played on instead of lying flat, XGrass' fiber will retain evenness, stay well rooted and hold infill better than monofilament yarns.
The athletic rubber flooring provided by XGrass is made from recycled rubber and withstands the rigors of athletic training day in and day out.
With the resilient XGrass turf and rubber surfaces, D1 can replicate top college and pro training environments - helping athletes to reach their goals.
"I loved getting to see the new XGrass turf and weight room surfacing at D1 Orlando. The product looked great and it performed awesome for our opening D1 Experience event with Tim Tebow. Having a first-class company like XGrass to go with our amazing athletes and facility made for a pretty great opening day at D1 Orlando," boasted Will Bartholomew, President and CEO for D1.
D1 has opened facilities in 15 locations with athlete and therapy partners. The athlete co-owners in D1 facilities include athletes such as Peyton Manning, A.J. Hawk, Philip Rivers, Herschel Walker, Heather Mitts and Tim Tebow.
For more details about XGrass products call 877-881-8477 or online at http://www.xgrass.com
About XGrass
Backed by three generations of experience, XGrass has proven itself as the most revolutionary and fastest growing recreational surfacing company in the US. XGrass strives to raise the standards in engineering, innovation, installation and recycling. XGrass is a family owned company with regional representation that will ensure your project will be our priority before and after installation. As industry experts and leaders in surfacing, XGrass has made it their responsibility to give customers a clear understanding of the market, the products and technologies available, and assist with choosing a system that best fits their needs. XGrass is poised to offer customers the best products, service and technical know-how available. The company serves the United States and Canada with its synthetic turf, rubber surfacing and court tile products through its corporate sales team, distribution network and independent dealers.
XGrass, We've got it covered. http://www.xgrass.com