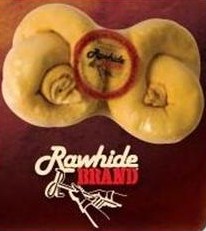 (PRWEB) July 09, 2012
PetAg is excited to announce that throughout the month of July they will focus efforts on educating dog owners how to "choose the right chews" and the benefits of choosing Rawhide Brand® Chews for pets. These efforts include informing all dog owners that there is a difference between the Original Rawhide Brand® and other rawhide chew products in both a nutritional and safety sense by providing all owners a free downloadable report.
PetAg, Inc. delivers innovative health products to pet owners and animal care professionals that enrich and prolong the lives of companion pets, animals, birds, reptiles and zoo animals. The company acquired Rawhide Brand® in 1991, collaborated on the invention of injecting natural flavoring in 1999 and helped introduce the chews in a variety of flavors in 2005. After more than 20 years experience with Rawhide Brand® Chews, PetAg makes it easier than ever to acquire not only these rawhide products but all the educational information an owner needs to ensure quality health and care for their dog. Besides easy access to the downloadable report, dog owners can purchase the Original Rawhide Brand® products directly off the PetAg website.
An important attribute that sets Rawhide Brand® Chews apart from other rawhide is the patented delivery of nutrients. Only PetAg can apply the right nutrients to distribute vitamins, minerals and herbs to your dog through a chew. Not only does PetAg want to educate the audience on the nutritional value of Rawhide Brand®, but also the safety of all dogs using rawhide chews. Dogs are different weights and sizes and therefore require different sized chews. A simple chart in the report will help owners identify which size rawhide to purchase. Visit the PetAg Facebook page to be a part of the Rawhide Brand® conversation and to learn more.
PetAg, Inc is a leader in pet product development and manufacturing. Based in Hampshire, Illinois, they offer innovative health and wellness products to pet owners, veterinarians, and other professionals caring for animals. They continue to introduce nutrition solutions for pets, small animals, horses, poultry, swine, cattle, reptiles, birds, and zoo animals.
For more information on PetAg please contact Katie Herum at katieh@marketingzen.com or by phone at 715.222.1228. Users may visit the PetAg website at http://www.petag.com/.