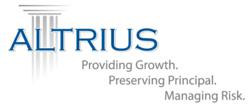 Altrius is honored to have been selected for such a prestigious designation. We are proud to be one of just four independent, fee-only firms of the thirty-four selected
Raleigh, NC (PRWEB) July 02, 2012
Altrius Capital Management (http://www.altrius-capital.com) announced today that the firm has been recognized as NABCAP Premier Advisors, an exclusive group of financial advisors who represent the best in quality wealth management in the greater Raleigh/Durham area.
The designation is awarded annually by the National Association of Board Certified Advisory Practices (NABCAP), a nationally-registered 501(c)(3) nonprofit organization, established to serve the needs of the investing public by helping identify top wealth managers. The selection process is based on a proprietary system whose ultimate goal is to provide investors and advisors a trusted standard of excellence to help guide them within the financial services industry.
"Altrius is honored to have been selected for such a prestigious designation. We are proud to be one of just four independent, fee-only firms of the thirty-four selected, and the only firm which claims compliance with the Global Investment Performance Standards (GIPS (r)) illustrating our commitment to providing solid, risk adjusted returns to our clients over the past volatile decade.", said Altrius Capital Management's President, James Russo.
The evaluation process assesses 20 categories of practice management, which include areas such as customer service, risk/investment planning philosophy, credentials, team dynamics, fee/cost structure, and average AUM per client among other areas.
The NABCAP Premier Advisors were announced in the June 22nd edition of the Triangle Business Journal.
About Altrius Capital Management
Altrius Capital Management seeks to deliver diversified, total return focused investment management solutions designed to take advantage of dynamic market opportunities while minimizing risk. With a history of providing global balanced portfolios for more than 15 years, Altrius Capital Management's investment and wealth management teams are dedicated to the pursuit of total return on behalf of investors. More information on Altrius Capital Management is available at http://www.altrius-capital.com.