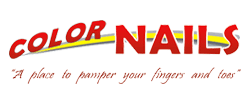 Santa Rosa Beach, FL (PRWEB) July 01, 2012
The newly opened Color Nails Salon offers Santa Rosa Beach residents and surrounding areas a full service nail care and waxing salon. Owners Tiffany Nguyen and Kevin Ly moved to Florida with the primary intention of realizing their dream of a full-service nail and waxing salon. With Color Nails Salon's recent debut, the duo intends to provide quality nail treatments and attentive customer service with health needs always in mind.
Color Nails Salon strives to present clients with innovative techniques and close attention to detail in a clean and friendly atmosphere. Primarily concerned with hygiene for every treatment, the salon's technicians sanitize instruments thoroughly between clients. Pedicure chairs and pipe-less jet pumps also help to ensure an environment free of health hazards.
For clients who have trouble growing long fingernails, Color Nails Salon applies acrylic sets, and offers acrylic fills at the nail bed every two weeks for maintenance as well as UV gel, Gel-ous, and Gel polish. Customers with brittle tips can strengthen their natural nails with any of these products. The salon's pedicure menu organizes different treatments for men, women, and children 10 and under. For the organic pedicure, technicians treat feet to Spa Organics products infused with Morrocan argan oil, then remove calluses, exfoliate with a sugar scrub, apply a hydrating mask, and end with a hot stone foot massage.
In addition to an extensive array of artificial nail services, manicures and pedicures, Color Nails Salon presents a full menu of waxing options. Guests can opt for facial grooming to eyebrows, the upper lip, chin, sideburns, or the full face. Specialists will also cover any body areas, including bikini zones.
About the company:
Color Nails opened its debut location this year in Santa Rosa Beach, FL. Through the development of innovative techniques and focus on customer service, Color Nails offers a convenient location and specialty service on the Emerald Coast.
Making the customer look and feel good is Color Nails Salon's highest priority. Color Nails Salon is proud to offer not only a full menu of Waxing, Manicures, Pedicures and all types of Artificial Nail services, but also a clean and friendly atmosphere that their customers want to experience again and again! For more information visit their website at http://www.santarosabeachnailsalon.com.