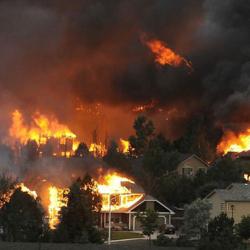 One of the most destructive wildfire seasons ever to hit the West.
Denver, CO (PRWEB) July 05, 2012
Abelard Construction, the premier residential and commercial restoration firm in the United States, is ramping up their crews to help thousands of property owners up and down the front range in Colorado. The June hailstorms brought water damage to thousands of properties and the recent wildfires are still raging throughout the state, leaving many residents with severe hail, wind, smoke and fire damage.
"I can't believe the back-to-back storms and wildfires here. Hail, fire, and smoke damage have devastating effects to properties, and Abelard has crews in both our construction and restoration divisions in place helping property owners get the repairs they need fast. We are currently receiving many hail damage claims," says Abelard Co-Founder and Colorado native Brian Southard.
Abelard Construction is a full-service general contractor in the state of Colorado and has been serving thousands of property owners with residential and commercial restoration and construction needs over the last 12 years. With 17 locations nationwide, Abelard Construction recently opened a second office in Colorado to help property owners who have storm, hail, water, fire, smoke damage get the repairs they need fast.
"Our long-term commitment and ties with the Colorado community have made Abelard Construction the first place to call for storm, water, fire and smoke damage repairs. We offer free inspections, work with the insurance agency, and provide emergency assistance to help our clients back on their feet quickly," says CEO/ Co-Founder Anthony Delmedico.
The early June hailstorm in Colorado took residents completely by surprise, damaging thousands of roofs from Colorado Springs to Denver. Most property owners are unaware of hail damage to their roof since it cannot be seen from the ground. Abelard Construction is offering free roof inspections to property owners. The same hailstorm also brought tornadoes to the area, leaving Colorado residents with major property damage throughout requiring repairs to roofs, siding, gutters, and exterior appliances.
On the heels of the June 6th Colorado hailstorms and tornadoes, wildfires began spreading throughout the state, forcing many Colorado residents to evacuate their properties en masse. With three major fires burning in the heavily populated areas in and around Fort Collins, Colorado Springs and Boulder, the state is scrambling to allocate resources. The Abelard Restoration division is expanding their workforce to help property owners get emergency fire and smoke repairs and offering free inspections to residents.
The insurance claims are many throughout the state of Colorado, whether for hail, water, smoke, and fire damage, and sometimes a combination. In common fire triage practices, cedar shake roofs are the leading reason for disqualifying a house for firefighter attention. It's because a cedar shake roof makes a home extremely unsalvageable in the event of a fire. Insurance companies know this and are buying up the cedar shake roofs submitted for claims.
"Our thoughts and prayers are with those who have had to evacuate their homes. The rescue teams who have lost their lives. It's devastating. When the authorities give the okay, our Abelard Restoration division will help residents and conduct fire and smoke odor damage repairs throughout the state," says Dan Diprima, Vice President at Abelard Restoration.
Abelard Construction is rated by customers as the best in the business. With over 20 years of experience as a full-service general contractor in 17 states throughout the nation, Abelard Construction provides a free comprehensive property inspection covering roof, siding, gutters, paint, window damage and works with the insurance claim adjustor to get property owners the repairs they need. Learn more about the Insurance Claim Process: http://youtu.be/LPsGTEi3ghQ
About Abelard Construction
Abelard Construction is the national leader in the residential and commercial restoration and construction industry. Currently operating in 17 states across the United States, Abelard Construction is the premier residential and commercial restoration firm. As a licensed general contractor, we are able to respond to your unique construction and restoration needs with speed and flexibility. Whether you have a residential roofing emergency, require water, fire, smoke or mold damage restoration or need general contractor services for general maintenance on commercial properties, we are poised to help. Visit http://www.abelardconstruction.com or call 1.888.260.ROOF.
About Abelard Restoration
Abelard Restoration is a full-service residential and commercial provides repairs and emergency clean-up for water, fire, smoke, and mold damage. With over 20 years of experience, we are poised to help with all of your emergency repair and restoration needs. Whether you have water damage, need mold remediation, soot removal or fire damage, Abelard Restoration gets the job done. Visit http://www.abelardrestoration.com or call 1.855.ABELARD.