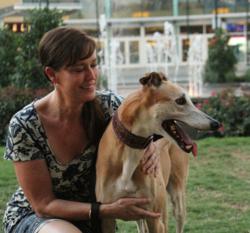 Dallas, TX (PRWEB) July 05, 2012
Suzanne Burke, author of the new children's book Logan's Secret appeared on the June 27, 2012 broadcast of ABC's Good Morning Texas (GMT), a highly-rated news and entertainment show broadcast daily in the North Texas area. Joining her was Logan, her beloved and adopted former racing greyhound, around whom the tale of Logan's Secret revolves. In fact, the 60-page Logan's Secret is told from the dog's point of view and offers children ages eight and up an engaging adventure story of survival, along with important lessons in goal-setting and perseverance.
"We were so excited to be featured on this popular program," says Ms. Burke. "Having Logan alongside me allowed me to not only speak about my book, but also address the topic of greyhound adoption following a greyhound's retirement from racing." Suzanne is an active member of GALT (Greyhound Adoption League of Texas) and was able to provide adoption information to GMT viewers.
"Logan did a great job representing his fellow greyhounds…he thinks he's a TV star now," says Suzanne. "We've received so many positive comments on the book through our website and Facebook."
Logan's Secret describes Logan's amazing journey from the racetrack to his "forever home", which takes twists and turns keeping the story lively and engaging while also gently teaching life lessons such as overcoming adversity. In addition, author Suzanne Burke offers educational projects for children at the end of the book to stimulate creative writing, expanded vocabulary, and critical thinking. The second two books of a planned trilogy will continue to feature Logan and his adventures with his "humans" on their shared life journey.
Published in the summer of 2012, printed copies of Logan's Secret are currently available through the author's website, http://www.Greyhoundstories.com or through Amazon at http://amzn.to/OcVXfl. To download on Kindle, please visit http://amzn.to/MESZft. In addition the GALT organization is helping to sell books with the offer of a small stuffed toy greyhound at http://galtx.org/store/index.php/item_629. Books are $12.95 each with a percentage benefiting the Greyhound Adoption League of Texas.
# # #
Interview and/or review requests may be made through K. Wilson Communications at the number shown below or through the author Suzanne Burke at (214) 334-3658 or sburke(at)greyhoundstories(dot)com. Photos available.
Contact: Karol Wilson
K. Wilson Communications
(214) 321-1971 or karolwilson526(at)aol(dot)com