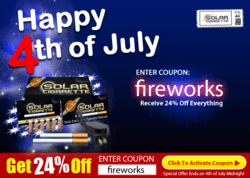 Get access to your own personal smoking buddy to help you stay committed and offer the VIP service you deserve while making the switch to a better lifestyle.
Miami, Florida (PRWEB) July 01, 2012
It's no secret that trying to quit smoking and the fear of gaining weight are two of the most common issue that is faced by smokers all over the world. Fighting nicotine cravings can drive a smoker insane, but Solar Cigarette gives smokers another weapon that no only helps them fight off the nicotine cravings but also helps smokers lose weight in the process.
The Secret Ingredient To Fight Nicotine Cravings
"The Solar Cigarette electronic cigarette is the only one of it's kind that has the "Fountain of Youth" Cartridge Set that offers many more health benefits. Included in the said set are the Vitamin B Cartridge Pack, Coenzyme Q10 Cartridge Pack, Fountain of Youth Cartridge Pack and Ginseng Cartridge. All of them offers aid in battling age-related disorders and other specific help for a better health."
Read more at: prweb.com
A representative of SolarCigarette.com states that Many smokers don't realize the nasty health effects that cigarette smoking has on the body. Not just for your lungs but smoking also effects non smokers around you as well. Cigarettes are even becoming more expensive for smokers to get their nicotine fix as well.
Discovering a better way to smoke that not only helps smokers lose weight while saving money sounds too good to be true, but just ask our clients who use our Solar
Cigarette vitamin packs and they will tell you the truth.