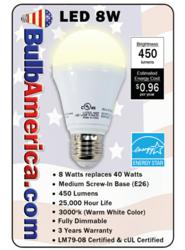 the streamlined design of this 8 Watt dimmable bulb saves customers as much as $486 in energy costs over its lifespan
Brooklyn, NY (PRWEB) July 02, 2012
A market leader in LED light bulbs, Brooklyn based LED lighting company BulbAmerica.com launched the most cost-effective alternative to a Standard 50 Watt Incandescent light bulb. This fully dimmable 8w Warm White LED Bulb has been designed and engineered by them as a part of their endeavor to offer their customers with the latest,most affordable, and energy efficient lighting solutions in the industry. Approved for use in Damp locations and Enclosed Fixtures, this Fully Dimmable LED light bulb reduces manufacturing costs and also extends the life of the LED's exponentially.
BulbAmerica's 8W Dimmable LED Bulbs contain no mercury and emit no UV/IR light. The bulb has a lifespan that lasts over 25,000 hours which would equal 32 regular bulbs. This LED light bulb is also RoHS compliant, UL Listed, and LM79-08 and cUL certified. A lighting expert at BulbAmerica.com says, "Designed and built in the USA, the streamlined design of this 8 Watt dimmable bulb saves customers as much as $486 in energy costs over its lifespan" adding that "It is an amazing new addition to the growing line of efficient LED light bulbs created in the US." This unique bulb design that provides 450 Lumens of omni-directional light output with only 8 watts of power uses the best technology to provide smooth constant dimming. Currently, BulbAmerica is offering a 3 year Warranty on this $12.49 bulb (list price $24.99).
A market leader in the lighting industry, BulbAmerica has been offering their customers cost effective and quality products that include fluorescent, halogen, LED, CFL, incandescent, projector lamps, and various LED lighting options including LED strips. For more information about the light bulbs and lighting solutions that are offered at BulbAmerica.com and to buy the new 8W LED Light Bulb that is available exclusively at their online store, visit the website or call 1-877-650-0775.