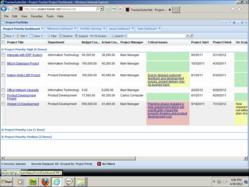 Tucson, AZ (PRWEB) July 02, 2012
Automation Centre, award winning developer of TrackerSuite.Net, a Web based suite of integrated modules for Projects, IT and CRM, is pleased to announce the launch of an evaluation site showcasing its product's capabilities as a project office software solution. This site utilizes a role based format that allows users to experience TrackerSuite.Net as a Project and Portfolio Management system by logging in as an Executive, an Administrator, a Project Manager or a Project Team member. Interested parties may register for immediate access to the demonstration at: http://www.Project-Tracker.Net.
As users move from role to role, they can see how TrackerSuite.Net provides a different virtual workspace for each user, presenting them with a customized desktop, views and folders. These roles include:

Victor Vice President: Victor is an Executive. His priorities are ensuring that projects within the portfolio are aligned with real business objectives, assessing their value versus costs, and making decisions that benefit the overall health of the portfolio and his organization.
Ashley Admin: Ashley is an Administrator. She keeps the PMO running smoothly and serves as a liaison with customers. Ashley tracks the processes that drive projects, ensures that everyone is aware of their responsibilities, and that they have information and tools they need to fulfill them. She is responsible for customer invoicing and contract management.
Mark Manager: A Project Manager. He is responsible for several projects, and his priority is to deliver those projects on-time and within budget. He is responsible for the accurate and timely reporting of the status and progress of his projects, as well making sure that his teams are meeting their performance expectations.
Joe User: Joe is a Project Team Member. He is one of Mark Manager's resources. His responsibilities typically include updating the status of his tasks and charging time against them.
Within the evaluation, visitors can switch among these various characters to experience their typical work activities, whether that is reviewing project proposals as Victor Vice President, reviewing timesheet dashboards as Ashley Admin, updating a status report as Mark Manager, or filling out and submitting a Web timesheet as Joe User.
As well as the evaluation site, Automation Centre offers guided demonstrations of its products. During the guided demonstration, Automation Centre representatives can exhibit other features of the product that are not available on the evaluation site, such as its email integration capabilities. For example, TrackerSuite.Net can be surfaced in email clients including Microsoft Outlook, where users can drag-and-drop emails to a TrackerSuite.Net folder to create tasks, project documents and support tickets from the email itself. Users can also synchronize work between TrackerSuite.Net and Outlook Tasks. To schedule a guided demonstration, call Automation Centre today at (520) 882-9287.
About Automation Centre
In 1994 Automation Centre, a privately held company, began providing computer products and services to consulting organizations, with a special focus on technology companies. We recognized that an environment of rapidly changing market conditions and scarce skilled human resources mandated streamlined business processes. We helped our clients accomplish this by re-engineering and automating service chain processes within their businesses. Automation Centre's award winning software products include TrackerSuite.Net (for the Web), Tracker Suite (for IBM Lotus Notes / Domino) and TrackerOffice (for Microsoft Outlook/Exchange).
TrackerSuite.Net is a trademark of Automation Centre. Tracker Suite and TrackerOffice are registered trademarks of Automation Centre.