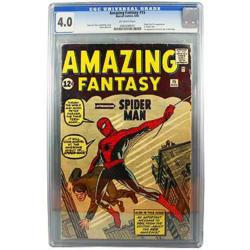 (PRWEB) July 01, 2012
On June 20th, PoliceAuctions.com auctioned a CGC graded Amazing Fantasy 15 comic book featuring the first appearance of Spider-Man. The grading company, CGC, rated the book a 4.0, with a blue label meaning the comic book had not been restored and was completely original. Currently only sixty one Amazing Fantasy 15s have a rating of 4.0, and only two hundred have ever been rated higher than 4.0. The comic book sold for $9,006. In March of 2011 the same issue graded by the same company in 9.6 condition sold for 1.1 million dollars.
Amazing Fantasy Issue 15 is the first appearance of one of the world's most recognized superheroes, The Amazing Spider-Man. Published in August of 1962 Amazing Fantasy 15 features an iconic cover drawn by Jack Kirby and interior art by Steve Ditko. Stan Lee wrote the story using the legendary Marvel Method, by which the writer would turn in a brief outline of the plot then after the pages were drawn add in dialog and captions.
Spider-Man was a ground breaking character in the comic book genre featuring a teenager as the hero and not the sidekick of an older superhero. The teenaged Peter Parker, Spider-Man's alter ego, was a high school student who often struggled with issues and emotions that young readers could relate to.
About PoliceAuctions.com
PoliceAuctions.com offers many services to their members including a searchable listing of police auctions and government auctions. PoliceAuctions.com is known for their one-dollar no reserve auctions. These fast paced auctions offer their users the chance to bid on, and win, items for as little as one dollar. By combining a product selection ranging from name brand jewelry auctions, watches auctions, collectible coins auctions, home goods auctions, and sports memorabilia auctions with industry leading customer service PoliceAuctions.com has earned the loyalty of millions of devoted users.
PoliceAuctions.com has made it even easier for customers and fans to connected with them via social media like their Facebook fan page. This exciting and newly launched space informs customers of up coming auction items.