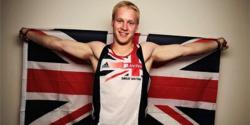 This was only my fifth race this year. I've had head winds for the two decent races I've run. All I've been asking for is a tail wind and I finally got one
(PRWEB) July 02, 2012
GB sprinter Jonnie Peacock set a new T44 100m world record as he dominated an impressive field at the US Paralympic Track & Field Trials in Indianapolis on Saturday.
Peacock clocked 10.85 seconds to finish ahead of Paralympic silver medallist Jerome Singleton, Parapan American Games gold medallist Jarryd Wallace and Marlon Shirley, the previous holder of the world record.
The 19-year-old was 0.06 quicker than 2000 and 2004 Paralympic champion Shirley's time, set five years ago.
"This was only my fifth race this year," said Peacock who finished sixth at last year's World Championships. "I've had head winds for the two decent races I've run. All I've been asking for is a tail wind and I finally got one."
Peacock later tweeted: "Thank you sooo much everyone for the messages!! so happy right now even though drug testing took 2 hours.... 10.85!! look 4ward to london."
His performance means the T44 100m final on 6 September remains the most eagerly awaited race in Paralympic history with defending champion Oscar Pistorius likely to line up alongside Peacock, Shirley, Singleton and Wallace.
There were also lifetime bests for wheelchair racers Mickey Bushell and Hannah Cockroft over the weekend, improving their own world records.
Bushell set a new T53 100m world best with 14.38secs while Cockroft clocked 31.23secs in the T34 200m.
There were also personal bests for T46 double junior world champion Ola Abidogun and T54 racer Jade Jones.
Abidogun recorded personal bests in both the 100m and 200m while Jones did the same in the 400m, 800m and 5000m at the Michael A Carroll Stadium.

A comprehensive guide to classification in athletics is available on the IPC's website
For all your latest news ahead of the 2012 Paralympics, follow @C4Paralympics on Twitter and like the C4Paralympics Facebook page