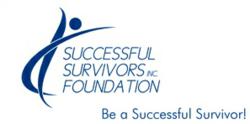 "Successful Survivors are stronger, more resilient, and more resourceful than the average person"--founder and former victim of child abuse Rhonda Sciortino
Newport Beach, CA (PRWEB) July 10, 2012
Former foster child, author, and talk radio show host, Rhonda Sciortino, wanted to help victims of child abuse use the characteristics developed as coping mechanism for abuse as the stepping stones to their success. So, she established a non-profit organization, Successful Survivors Foundation, to collaborate with child welfare organizations, foster parents, and educators around the country to help young people move from "victim to victor" by becoming the best employee on the job.
Sciortino emancipated from the child welfare system at age 16. She says, "I have succeeded in life but it wasn't because I was the smartest, the prettiest, the most athletic, or because I married a wealthy man or bought a winning lottery ticket! I have succeeded in business because I am committed to learning from everyone I meet, treating people well, and working hard to contribute to the bottom line."
Successful Survivors Foundation was founded to help the estimated 36 million survivors of child abuse become "successful survivors" by mining the lessons out of their pain and applying those lessons to their personal and professional lives. SSF announced today that they are partnering with Molitor International to help bring the MITI Youth Work Ethic and Character Building Training course to communities all over the US.
The MITI Youth Work Ethic course includes 60 hours of interactive training on how to be a good employee and why that's important. The course includes videos of adult "overcomers" in various careers who speak candidly about the abuse they suffered, and how they got over it.
Young people who have completed the training made these comments: "I have more respect for myself as a result of MITI. MITI helped me realize the importance of having a job and to appreciate having a job. MITI has taught me how to communicate better with others. MITI has taught me good work ethics and how to present myself in a good way. MITI has opened my eyes so that now I will put the best that I have into my work, and do it with quality. MITI has taught me to calmly talk through situations instead of getting mad and blowing up."
Cathey Prudhomme - President/CEO, Eagle Village of Evert, MI, wrote:
"MITI is user-friendly and includes strategies for all learning styles. This curriculum is highly effective in changing the lives of young people. Instead of treating those 'poor little children,' we are empowering young men and women for lives of service in their families and their communities. This message of hope and healing has resonated not only with the children of Eagle Village, but also with our staff, leadership, board members, volunteers and even donors. I would highly recommend MITI training to all who would like to be challenged for change and excellence."
The Successful Survivors Foundation hopes that employers that hire entry-level people will choose to hire MITI Youth Work Ethic and Character Building graduates, which will make an investment into the lives of the graduates that will pay off for youth as well as for employers.
For more information about Successful Survivors Foundation or how you can bring the MITI training to your community, contact Rhonda Sciortino at 949.689.5611 or successfulsurvivors(at)gmail(dot)com.