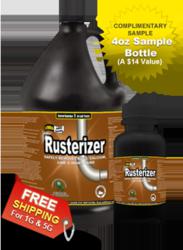 ...the use of it[Rusterizer] leaves no residue or gases that can harm the health or add more pollutants to the environment.
Seattle, WA (PRWEB) July 01, 2012
Rust removal is one of the most implemented cleaning processes in houses and buildings. The reason is that it can occur in almost any place where metal is. Just a little moisture in any iron metal item or surface and rust will break out in just a short moment. To clear it effectively and safely, Rusterizer formulated a solution with use of natural ingredients.
For sometime, the said solution, also called as Rusterizer, was only available to a number of large companies and rust removal contractors. And as they all said, the product simply works. That allowed companies to cut low on their cleaning budget and contractors to raise their profit.
Get a Sample of Rusterizer Today
Because of the product's success to be effective and safe and the positive response to the way it works, its manufacturer and distributor decided to bring it out to the public. And so after a new licensing agreement, the solution is now available to all rust removal contractors and any rust sufferer.
But why choose Rusterizer? Surely, there are many other rust removal products out there. What makes it different from others?
Well, basically, it is the elements that make up Rusterizer that set it apart from others. While most rust removers contain harsh chemical ingredients, it only got natural components. And because of all those natural ingredients, the use of it leaves no residue or gases that can harm the health or add more pollutants to the environment.
With that said, Rusterizer also makes a good help to go green. In a way, it gives every home and property owner an opportunity to incorporate going green to everyday cleaning. And that's without scrubbing for hours as it is made tough on rust despite being gentle to health and the environment on the other end.
On the contractors's side, the product can lessen the number of employees needed as it is effective and therefore, speeds up the removal. That, in return, can decrease the labor cost. And with the "green-ness" that it adds to the process, a rust removal professional got one more benefit to offer to the clients.
Nonetheless, the company knows that there are other green rust removers out there. However, to show that its non-toxic rust removal product is like no other in being safe and effective, it's giving out complimentary samples of it. And that, any rust sufferer or contractor can get.