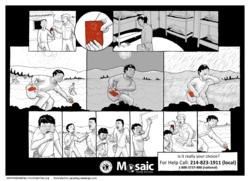 We had to get creative in how we try to communicate with trafficked people and those who encounter them.
Dallas, TX (PRWEB) July 02, 2012
Forced labor and commercial sexual exploitation are happening in our communities, often in plain sight, yet only a fraction of human trafficking cases get uncovered. Dallas nonprofit Mosaic Family Services wants to change that.
Tasked by the U.S. Department of Health and Human Services and the U.S. Department of Justice with identifying and serving trafficked people in North Texas, Mosaic is reaching out to trafficked people with a simple message of hope: You are not alone and help is available.
Unfortunately, the obstacles to reaching trafficked people can be enormous. Though they may have some limited opportunities for social interaction, people living in exploitative situations tend to be unaware of their rights, leery of authorities, and terrified of retribution from their traffickers. Many also have limited English proficiency, adding another layer of difficulty to uncovering the crime.
"Traffickers target people from our society's most marginalized groups, then further isolate them with threats and violence," said Mosaic's Deputy Director, Bill Bernstein. "The women, men, and children trapped in these situations are probably the hardest-to-reach people there are, so we have to get creative in how we try to communicate with trafficked people and those who encounter them."
Mosaic teamed up with local artist Jacob Haynes to develop the art displayed at the shows, a series of wordless comic strips depicting human trafficking. Originally developed to run in local foreign-language newspapers, each piece tells the story of a person who chases promises of a better life, but gets trapped in a situation of forced labor or commercial sexual exploitation. The stories were inspired by the experiences of dozens of men and women who were trafficked in North Texas.
"We wanted to use a medium that would make the information accessible to as many people as possible, including speakers of other languages and individuals with low literacy levels," Bernstein said. "The comic strips do that. They're very informative without being intimidating."
In coming months, the pieces will be on display for one-day art shows around the Metroplex. Mosaic staff hopes they will start a dialogue about modern-day slavery, and ultimately empower people to speak out against their own exploitation and that of other of vulnerable individuals in their communities.
"An effective response to human trafficking has to include the whole community," said Bernstein. "Several local cases have been uncovered by good samaritans who met someone in a bad situation and spoke up against it. Because of that simple act, people who were enslaved recovered their freedom and dignity."
Mosaic will hold its first show at 10 a.m. on July 4 at Thanks-Giving Square in Dallas. Later shows will be announced at http://www.facebook.com/mosaicfamilyservices.
Key Facts about Human Trafficking
-The 2012 Trafficking in Persons Report from the U.S. Department of State estimates that there are currently 27 million victims of human trafficking worldwide.
-Mosaic Family Services has worked with more than 300 survivors of human trafficking from 17 countries.
-Of the trafficked people Mosaic has served,
-64% were trafficked for labor, 20% for commercial sex, and 16% for both labor and sex.
-66% were female and 34% were male.
-85% were adults and 15% were children.
To report a tip or request services, call 214-823-1911 (DFW) or 1-888-3737-888 (national).
About Mosaic Family Services
Mosaic Family Services is a Dallas nonprofit that provides culturally sensitive services free of charge to refugees and immigrants in crisis, including survivors of family violence and human trafficking. For more than a decade, Mosaic has worked with survivors of human trafficking, providing comprehensive services including shelter, counseling, case management, and legal assistance, in more than 25 languages. Mosaic's human trafficking outreach program works to identify trafficked people and prevent victimization by empowering vulnerable communities against human trafficking through education. Learn more at http://www.mosaicservices.org