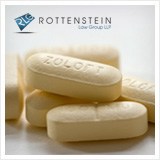 New York, NY (PRWEB) July 03, 2012
The Rottenstein Law Group, which represents clients with claims stemming from injuries and birth defects caused by the Selective Serotonin Reuptake Inhibitors (SSRIs) Zoloft and Paxil, has learned of research suggesting that critically ill patients who are prescribed SSRIs after being admitted a hospital's intensive care unit (ICU) are more likely to die than patients who are not taking a drug in the SSRI class.
According to a release issued by the American Thoracic Society, a group of researchers from Beth Israel Deaconess Medical Center in Boston, and the Massachusetts Institute of Technology conducted a study that looked at the medical records of 10,568 patients one year after being admitted to the ICU. Of the 10,568 patient records studied, 1,876 were taking either an SSRI or a serotonin and norepinephrine reuptake inhibitor (SNRI) prior to admission to the ICU. They were compared to other patients admitted to the ICU who were not taking one of those medications. After making adjustments for age, gender, diagnosis, illness severity and other factors, the researchers determined that patients on SSRI/SNRI's prior to admission to the ICU were 73% more likely to die in the hospital.
Among patient groups, risk was highest among those with acute coronary syndrome and those who had undergone cardiac surgery. For both of these patient groups, the risk of dying in the hospital was more than double if they were taking an SSRI or an SNRI prior to admission.
"We found that mortality was higher overall for patients taking antidepressants prior to admission to the ICU and remained significantly higher a year later," says Dr. Katherine. M. Berg, one of the physicians involved in the study, in the American Thoracic Society release. "We also found that certain subgroups of patients, particularly patients admitted for cardiac problems, appeared to be at even greater risk."
The Rottenstein Law Group's Zoloft Lawsuit Information Center contains social media features that allow for easy sharing on sites like Facebook and Twitter, which enables visitors to spread the word about the potential dangers associated with Zoloft. The firm encourages visitors to link to its sites from their own blogs and Web sites to spread information about dangerous drugs and defective medical devices.
If you took Zoloft and you believe it caused you to suffer harm, or if you took Zoloft while you were pregnant and you believe it caused harm to your unborn baby, your unborn baby, visit RLG's Zoloft Birth Defects Information Center.
About the Rottenstein Law Group
The Rottenstein Law Group is a New York-based law firm that represents clients in mass tort actions. The firm was founded by Rochelle Rottenstein, a lawyer with over two decades of experience in compassionate representation of clients in consumer product injury, mass tort, and class action law suits. For more information, please visit their Web site, or call (888) 9-ROT-LAW.
###