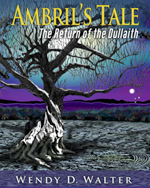 San Mateo, CA (PRWEB) July 01, 2012
A Harry Potter type fantasy, its outlandish characters and humorous take on dealing with a broken family, adolescence and the occasional attack of monsters, is a sure-fire cure for whatever the evening news dishes up this summer.
Ambril is fourteen when her family moves from San Francisco to the place where she was born but doesn't remember. Trouble pounces just after they make it through the Wall, a twenty foot high, five foot thick stone barrier which encircles the town of Trelawnyd. Is it there to keep the monsters out...or to pen them in?
Ambril soon realizes it's a little of both as she is forced to not only battle real life monsters but also the paranoid behavior of the people around her who are desperate to keep their true heritage hidden. They bully and threaten, but the truth about her father's death is not a secret that Ambril will let them keep. Against all odds, she continues her quest to clear her father's name and heal the rifts in her family.
Ambril makes friends with some of the locals as she tangles with ornery garden gnomes, angry bicycles and a magical garden that she comes around to calling home. All this while she struggles to learn how to use the magic that will become her destiny.
The Return of the Dullaith is the first in the Ambril's Tale series. This humorous fantasy adventure is offered as an ebook. Print books will be available mid-July 2012. Book Two, Riding the Cursed Chutes, is expected out in September 2012.