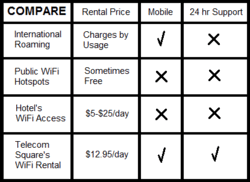 This service is just what I needed, and I didn't even know it was available until now
Pearland, TX (PRWEB) July 10, 2012
Telecom Square really does bring the industry to another level with their services. Renting a mobile WiFi hotspot from them is a great way for travelers to stay connected. They have one of the least expensive and most competitive prices available. Their dependable customer service can't be beat. They have fast reliable speeds available, depending on the country users can even get 4G LTE (that is speeds of up to 7.2Mbps!). This service is available for use in many different countries, including the USA, Japan, China, and the United Kingdom just to name a few. They have various discounts available, and currently all rentals are discounted from $14.95 to $12.95. All the accessories that may be needed for renting a mobile WiFi are available. There is insurance, small batteries, and large batteries to make using this service as easy and secure as possible. All this and more is available to users when they rent from Telecom Square USA.
If a phone or other device is compatible with overseas use, YES someone could use it while traveling. It seems very simple and easy, and it is. However, local providers charge outrageously expensive fees call "International Roaming Charges" Whoever may think they will just use the international roaming, keep in mind that Telecom Square USA's service is 50-90% cheaper than international roaming fees. The local providers won't be warning anyone about the bill sky rocketing ether, and they don't offer customer support outside the origin country. So when people have a problem overseas, they are on their own. Telecom Square USA will allow people to avoid all of these problems.
Some other rental providers may appear to offer a cheaper rental fee, but the majority of them charge data usage fees. With these fees, the user has to constantly track of much data they use because they are charged depending on the amount of use. This can be very dangerous when it comes to the bill. Keeping track of data can be a difficult task. Telecom Square USA provides a WiFi hotspot that is unlimited data access. It means there is no need to worry about tracking data, or additional fees. Telecom Square USA unlike many competitors offers 24 hour customer support and in 4 different languages. They provide replacements for faulty equipment. They have several offices in multiple countries to provide local support. The devices available with Telecom Square USA are some of the most advanced mobile hotspots available, and the connection is always local to provide a reliable connection. Public WiFi hotspots are available worldwide, but people still have to locate the spots to access them. This can be a huge challenge if the person does not speak the local language. Some countries (like Japan) have very little coverage. Worst of all, often these spots are not free. Finding these spots can be stressful and cause people to waste time going out of their way to use the internet. With Telecom Square's mobile WiFi hotspot, they can stay connected anywhere, anytime. Hotel WiFi is usually $5-15 for a WiFi connection per day. This means internet is only available in the hotel. If someone is going to spend that much, they may as well pay $12.95 per day to rent a mobile WiFi from Telecom Square USA, and stay connected everywhere they go.
Telecom Square USA is proud of their great service. They are a dedicated to their customers. Their main office is in Japan, where they have been providing this service for over 20 years. Making it the second largest company in this industry worldwide.