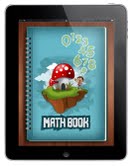 The days of kids carrying heavy books to school are going to be history. One iPad could replace them all.
Herndon, VA (PRWEB) July 02, 2012
A brand new iPad app is almost here. Innolance, a leading Mobile apps development company in the US, is working on putting together a new, fun filled educational application for young growing minds. The app is perceived to revolutionize the way children approach learning and is expected to be released by the end of July, 2012. It will use the latest technology in iPads and Tablets.
Technology is an ever changing tool that is being grasped by younger and younger generations. In today's world kids are the future of technology. In Massachusetts one school has traded in their old outdated texts for new, inspirational technology such as the iPad and Tablet. This application will create an easier way for kids to understand the fundamentals reading, writing and arithmetic. Schools are upgrading their technology and this is the next big step in that direction.
Innolances education application will provide a brand new way of learning for children. It has embraced 3 critical techniques, Audio, Video and Tactile learning. The app's touch screen will allow kids to interact with the program. It will also provide media and graphic rich screens for the user to follow along. Innolance has combined it into one, simple, easy to use application that children will embrace and welcome. This application is very interactive, intuitive and fun to use.
Mobile devices are very transportable and convenient. They are light and contain much more information than the textbooks. Children are using technology at a younger age every day. Generation tech is what they are called and 69% children ages 2-5 are able to use a mouse and that is just the tip of iceberg. Technology is so much a part of life for children that a good percentage can not tie their shoes. These statistics were part of AVG children and technology study from ages 2-5.
The purpose of Innolance's upcoming application is to teach kids and create a foundation of learning. This app will help introduce new technology and be an effective, fun filled learning tool for children. It will be similar to a school book. It will be learning made easy and children will be able to retain the information with the implementation of graphics,media, and hands on learning. Each user will be able to touch, see and hear what they are learning. The app is retina display optimized, which gives the users a sense of reading from a brand new book and not from a screen. The beauty of it is that each person will be able to learn at their own speed and the information will be easily understood.
Innolance primary focuses are on Mobile, Social Media and Clouds. They do custom design and development of Mobile Apps and Mobile Web. Quality Assurance is another area Innolance focuses on. Innolance tests Mobile Apps and Mobile Web on real mobile devices and also offer regression testing and QA automation of Web Apps. On Social Media, Innolance does detailed analysis on customer feedback on FB, Twitter, Webinar etc. and create custom reports. Innolance's expertise also includes customization of Salesforce & SharePoint portals, build and maintain cloud infrastructure, and much more…