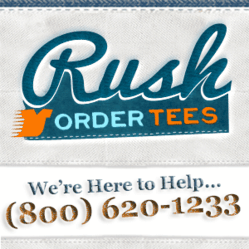 Most people don't think of custom t-shirts and high tech in the same breath
Atlantic City, NJ (PRWEB) July 03, 2012
Custom t-Shirts Screen Printers Rush Order Tees takes first place in competition of custom t-shirt printers in Atlantic City.
The winner is awarded more than the Championship title. The first place winner of this 2-day event heads home with a grand prize valued at $20,000 - a new automatic screen printing machine!
After winning the Day 2 Finals competing against the top 100 elite shirt printers in the nation, Rush Order Tees advanced into the Final Championship Match against the Day 1 Finalists. Rush Order Tees won the face off by more than 30 shirts - the sport's world equivalent of multiple grand slams.
Incredibly, the program (on one of the fastest screen printing machines in the world) actually had to be sped up to keep pace with the Rush Order Tees team.
The Tech of Shirt Printing Equipment -
Most people don't think of custom shirts and high tech in the same breath but screen printing is done with remarkably complex equipment run with advanced operating systems.
Even to machinists and technophiles, the machinery and programs can be intimidating and complex. In the hands of an experienced shirt printer however, the results are impressive and long lasting.
Learn more about the winning team - Rush Order Tees - specialists in fast screen printing, rush orders, and exceptional quality for over 10 years.
Contact Rush Order Tees at (800) 620-1233
About Rush Order Tees | a Printfly Company
Rush Order Tees has been in business for over 10 years. Since its founding, Rush Order Tees has expanded its product offering beyond custom printed shirts to include a large sports, academic, industrial and business offerings including company polos, custom business shirts, custom team jerseys, custom printed hats, custom printed sweats, custom college shirts, school jerseys, custom totes, custom aprons, and more.
Rush Order Tees acquired a 15,000 SF facility in Philadelphia, PA which they equipped with over 20 of the highest quality screen printers, digital printers, exposure units, heaters, and more.
Offering free nationwide shipping, an industry-leading low price guarantee, excellent service, value and quality has yielded overwhelmingly positive online rating and reviews across leading sites like Google, Superpages, YP.com, and the Better Business Bureau where they hold a certified A+ BBB Rating. Built on repeat business and referrals from satisfied customers, Rush Order Tees has grown to be a major leader in the custom shirt printing industry.