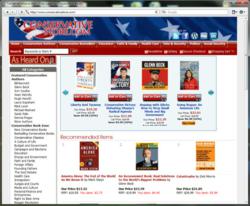 This is an awesome time to develop a multi-channel sales strategy and sell both online and instore.
Suwanee, GA (PRWEB) July 03, 2012
The service has been deployed in all bookseller webstores, including the company's highly successful Free eCommerce Web Stores for both the Christian Bookseller (CBA) and general Bookseller (ABA) markets. The upgrade is completely free and represents the first technology deployment of its kind in the combined Christian and general bookseller trades.
The upgrade works by inspecting multiple data points on each product and assigning a rating. Elements inspected include BISAC Codes, Publisher Houses, Source Distributor/Vendor, Author Name Keywords and Title Name Keywords. These facets are combined into an Adaptive Family Filter Score and questionable items are automatically removed from the product catalog with no action required by the store operator. The service will be constantly updated to ensure accuracy and relevancy.
"Our new Adaptive Family Filters represent another way DeeperCalling delivers outstanding value to our bookseller customers," stated DeeperCalling Media CEO Bill Goodyear.
"Our Christian Bookseller Service has always been free of questionable titles. However our general market (ABA) service has contained the full selection of products available from standard book distributors including Baker & Taylor and Ingram/Spring Arbor. We have taken a huge step forward to ensure that products from an Anti-Christian viewpoint are no longer available in any of our stores, be they Christian or General Bookmarket. We are the only Bookseller WebStore vendor that we know of that has taken this leadership stance in both the CBA and the ABA markets," Goodyear states.
"The spiritual safety of the consumers that interact with our Web Stores is of paramount importance to us," Goodyear continues.
"Retailers can now elect to offer their customers either our Christian Bookseller catalog, or our full General Bookseller catalog, knowing that objectionable materials are being safely filtered out of their stores – 24 hours a day! In addition, booksellers can filter out any additional titles they wish."
Goodyear says it is important to remember, "Retailers often talk to us of the challenges they face from large web retailers and catalog companies." He continues, "With our Free Bookseller Service, and our new Adaptive Family Filters, booksellers can now fight back and increase their territory. This is an awesome time to develop a multi-channel sales strategy and sell both online and instore. And with our free price point – you would be crazy not to! We are firmly committed to seeing Independent Booksellers thrive online – and generate new revenue streams."
# # # # #
DeeperCalling Media is the established leader in eCommerce Web Stores for Booksellers. The company provides retailers in the United States, Canada and the United Kingdom with optimized easy to use Bookseller Web Stores in both the Christian and General bookmarket trade. More information on DeeperCalling Media can be found at the company website http://www.deepercalling.com – and customers can preview a demonstration web store at http://www.deepershopping.com