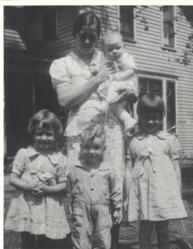 Omaha, NE (PRWEB) July 03, 2012
The death-bed journal of an Iowa City resident surfaced at a family reunion and her granddaughter wrote a narrative non-fiction biography based on the difficult and courageous journey her grandmother faced as a single mother.
The book, Soft Like Steel, was just released by WriteLife LLC and was written by Barb Malek, an Omaha native for 36 years. The story is one of motherly love and courage and is relevant to all women who have been forced into single parenthood. In this book, Malek immersed herself into the history of the region, as well as the in-depth story of her grandmother's past.
The plot of the book revolves around Barbara, a devout Mennonite farm-girl, who had been married less than a year when her husband suddenly vanished. Her safe and happy world disappeared along with him. She soon discovered that she had no idea who this man actually was. Unfortunately, the unexpected truth would lead her through years of pain and heartache, fighting for the survival of not only her marriage, but her children as well.
Set against a backdrop of Nebraska and Iowa during the devastation of the Dust Bowl and World War II, Barbara stays strong through devastating economic times, helping her family not only survive, but thrive. "Soft Like Steel" is a testimony to an incredible woman whose love and devotion rescued her family from the curses of the past and pushed their lives into that of stability, purpose and joy.
Individuals are encouraged to read Malek's book and become inspired to share their family's unique story at her website, http://www.softlikesteel.com. A link can be found at that site for purchase of "Soft Like Steel," as well as at http://www.writelife.com.