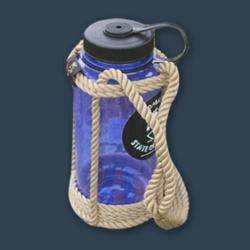 it's necessary to find means of minimizing waste in production
Fayetteville, NC (PRWEB) July 02, 2012
Synergy between two entrepreneurs from two different worlds can create lasting impressions. Recently Nomadic state of mind founder, Chris Anderson, and Kombucha Brooklyn founder, Eric Childs, met at a festival in New York state. Eric and his staff were selling his kombucha, and Chris and his staff were selling their handmade rope sandals and gear. Eric's bottles happen to fit nearly perfectly into Nomadic State of Minds water bottle holder. The two traded some bottle carriers for some kombucha, made a few adjustments to the ropes to fit the kombucha bottles and "presto", Kombucha Brooklyn had some new new custom bottle carriers for their kombucha drink and Nomadic State of Mind had another company to team up with to make bottle holders for.
The bottle holders are part of Nomadic State of Minds scrap reduction program. Scraps from the sandal making process are turned into functional rope art, and has become a means for the grassroots company to reduce their footprint on the planet. Founder, Chris Anderson, said "it's necessary to find means of minimizing waste in production, it just makes sense. It insures jobs for the off sandal season, makes some unique art out of waste, and lowers cash output for new material during off peak season, everybody wins!" Other rope art that stems from their scrap program includes purses, placemats, belts and more and can be found on their website, nomadicstate.com.
Nomadic State of Mind makes unique and functional bottle carriers for all sorts of industries; including water and wine, and now kombucha. Kombucha is a fermented tea beverage that is both delicious AND health-supportive. Today, it is known around the world for its detoxifying and energizing effects. Eric Childs Kombucha company can be found at kombuchabrooklyn.com.
About Nomadic State of Mind
Nomadic State of Mind was founded nearly ten years ago and is based in North Carolina. Manufacturing takes place both in Florida and in Nicaragua where the company has helped support a small community for the past eight years. Nomadic has always believed in positive contributions to the world around them and is committed to remaining true to their roots. For more information or additional art work please contact Chris Anderson or Shea McNally at 877-666-2376 or http://www.nomadicstate.com.