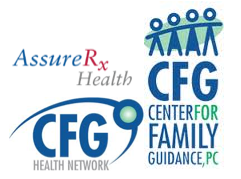 "With the introduction of GeneSightRx ADHD, clinicians now have an objective, evidence-based tool for individualizing ADHD medication."
-- James S. Burns CEO of AssureRx Health
Marlton, NJ (PRWEB) July 01, 2012
Center for Family Guidance, PC - a division of the CFG Health Network has launched a program that uses a test of three genes to determine which medication will be most effective for ADHD. This new test, called GeneSightRx ADHD, was created by AssureRx Health to help reduce the number of different medications and side effects patients may experience before finding the appropriate medication to manage their ADHD.
Attention Deficit Hyperactivity Disorder (ADHD) diagnoses increased 66 percent from 6.2 million in 2000 to 10.4 million in 2010, according to a recent study published in the March/April 2012 issue of Academic Pediatrics.
Despite the prevalence of ADHD, many parents are reluctant to put their children on medication.
"Parents are often resistant to putting their child on an ADHD medication because of the trial and error factor. Will it work? They don't want to put their child through the often stressful, lengthy and expensive process of trying multiple medications," says Jeanine Miles, a parent of a child with ADHD, a Licensed Professional Counselor (LPC), and the director of business development at the CFG Health Network.
Recognizing this dilemma, Center for Family Guidance, the outpatient behavioral healthcare division of the New Jersey-based CFG Health Network, looked to a new, innovative technology that aids clinicians in quickly finding the most appropriate level of care.
Patients now have the option of taking an ADHD-specific pharmacogenomic test that analyzes a patient's unique genomic profile to determine how they may respond to different medications.
A simple cotton cheek swab provides sufficient DNA to analyze three genes that influence how a patient metabolizes certain medications used to treat ADHD in children and adults. The GeneSightRx ADHD report of a patient's unique genetic profile then helps Center for Family Guidance clinicians individualize a patient's medication selection.
"We had to try three different medications before we found one that worked for my son," Miles explained. "Now that my son is on the correct medication, he is exceling -- he even made the honor roll! If we had this test available to us we would have known which medication was right much earlier on in the process."
The test, called GeneSightRx ADHD, is based on FDA-approved manufacturer's drug labels, published peer reviewed research, and proven pharmacology. The test was created by AssureRx Health, Inc., a personalized medicine company.
"ADHD is a neurodevelopmental disorder affecting millions of children and adults. With the introduction of GeneSightRx ADHD, clinicians now have an objective, evidence-based tool for individualizing ADHD medications," said James S. Burns, president and CEO of AssureRx Health.
Center for Family Guidance, PC's Marlton, New Jersey office has been offering AssureRx tests since February, and added the new GeneSightRx ADHD test when it was introduced in May.
"CFG is committed to constantly improving patient access to the best and most appropriate level of care, and we love to do so in innovative ways," Miles explains. "We are pleased with the response we have had with AssureRx and the new ADHD test and look forward to expanding this service to patients in our other outpatient offices in Woodbury and West Hampton."