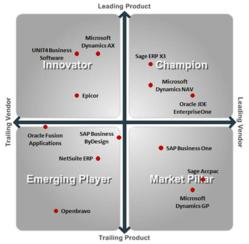 London, Ontario (PRWEB) July 02, 2012
Enterprise Resource Planning is moving beyond its traditional role of recording of transactional data to include analytics and workflow automation. Features for the automation of data management in ERP systems have matured and are now highly customizable, according to Info-Tech Research Group. A recent Mid-Market Enterprise Resource Planning (ERP) Vendor Landscape report, published by Info-Tech Research Group, ranked Sage X3, Oracle JDE Enterprise One and Microsoft Dynamics NAV as Champions battling to the forefront in the market due to their streamlined analytics.
"ERP is moving from merely a record of transactions, to the main support of the data management for the organization. Integrated analytics and workflow management modules have become competitive necessities," said George Goodall, Senior Research Analyst for Info-Tech Research Group. "ERP has become the latest enterprise application to be available as a cloud Software-as-a-Service. SaaS has eased the adoption of ERP and the extensibility of existing deployments, but has not yet led to vendor churn."
Champion vendor Sage X3 is an easy to customize solution that has a history of excellent regional support and sales. With Sage having over six million customers globally, Sage ERP X3 is deployed to 3,300 end users in 53 countries. According to the report, the solution is an adaptable product and provides multi-site data and workflow integration.
Also a Champion, Oracle JDE EnterpriseOne is a pioneer in this space with a stable and mature product that may be eclipsed by other Oracle products. With the depth to serve the needs of even the most complex mid-market enterprises, JDE EnterpriseOne has numerous configurations, including the choice of database, operating system, and hardware, providing extensive flexibility and scalability.
Microsoft Dynamics NAV is designed for ease of use and deployment with a variety of channel partners which assist with extensive customizations. Ranking as a Champion in the report, Dynamics NAV serves more than 82,000 mid-sized enterprises in 150 countries, and is available in a licensed or hosted deployment.
Winning the Innovation Award, UNIT4 Business Software has superior data handling and analytics that allow casual users in multiple sites to accurately handle and analyze data. Ranking as an Innovator, Agresso Business World is built for ease and flexible use, with simple drag and drop tools.
For the full list of Info-Tech Research Group's recommendations for selecting a Mid-Market Enterprise Resource Planning Vendor, visit: http://www.infotech.com/research/ss/it-vendor-landscape-mid-market-erp
Info-Tech Research Group Vendor Landscape reports recognize outstanding vendors in the technology marketplace. Assessing vendors by the strength of their offering and their strategy for the enterprise, Info-Tech Research Group Vendor Landscapes pay tribute to the contribution of exceptional vendors in a particular category.
About Info-Tech Research Group
With a paid membership of over 25,000 members worldwide, Info-Tech Research Group (http://www.infotech.com) is the global leader in providing tactical, practical Information Technology research and analysis. Info-Tech Research Group has a fourteen-year history of delivering quality research and is North America's fastest growing full-service IT analyst firm.