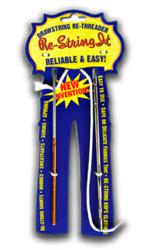 we're honored and blessed to be able to do our part
(PRWEB) July 01, 2012
CWA Enterprises, the manufacturer of the popular clothing repair tool Re-String It, announced today that it will be kicking off a new promotion on Facebook in honor of America's Birthday on July 4th.
The company will be launching a new "Group Deal" app on their Facebook page (http://www.facebook.com/ReStringIt) similar to the successful discount site Groupon. Customers may enter the deal for a chance to purchase two Re-String Its for the price of one. The discount will only occur if the program receives a certain number of participants and each individual must "like" Re-String Its page in order to take part.
Re-Sting It is a universal drawstring restringing tool that can re-thread any garment. It is equipped with a flat, rounded, adjustable loop that is designed to work with even delicate fabrics like silk or cotton. It is made of sturdy anodized aluminum and comes with a lifetime warranty. Recently, Re-String It was lauded as one of 2012's great inventions, and received a gold medal at the Inpex convention in Pittsburgh earlier this month.
CWA Enterprises was founded in California nearly three years ago and remains locally owned and operated. Its founder, Chad Archibeck, affirms that, "It is important to keep American manufacturing thriving to boost our economy and we're honored and blessed to be able to do our part. It's one of the reasons we're offering this promo."
The "Group Deal" promotion will begin on June 28th and end on July 10th. For more information, visit http://www.facebook.com/ReStringIt.