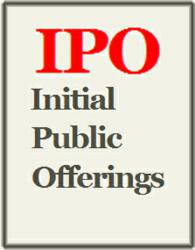 (PRWEB) July 01, 2012
IPO Initial Public offerings, one of industry leaders in providing IPO news and information is proud to announce the debut of its brand new twitter page which can be found at:
http://www.twitter.com/IPO_Consultants
The popular micro blogging site has solidified itself as one of most influential social networking websites on the internet. Originally launched in 2006 by web developer Jack Dorsey as a means to provide a quick and easy method for individuals on the internet to exchange short text based messages with one another, since then Twitter has taken the world by storm by completely revolutionizing the method of distributing news and information across the web.
IPO Initial Public Offerings is excited at now being a part of the Twitter phenomena. With Twitter now becoming a prominent web outlet for the distribution of news and information, The IPO website goal is to provide individuals with the most up date information within the securities industry. Twitter members interested in learning the intricacies of IPO filings as well as the going public process are encouraged to follow our tweets at @IPO_Consultants on Twitter.
With recent news of many high profile companies now venturing into the securities markets as public companies, many private business owners of all shapes and sizes are now contemplating the decision to go public.
Taking a company public brings about many additional benefits to companies that extend far beyond capital acquisition, such benefits include: greater stock valuation, liquidity, investor exit strategy and more.
IPO Initial Public Offerings provides consultation services pertaining to the subject of IPO filings as well as taking companies public. Whether private or start-up any company can go public.
For more information please see below:
About Us:
Contact Person: Bill Truman
IPO Initial Public Offerings
We Take Companies Public Including Start Up Companies
Email: information (at) IPOinitialpublicofferings (dot) com
Website: www (dot) ipoinitialpublicofferings (dot) com
Tele: 310 888 1195