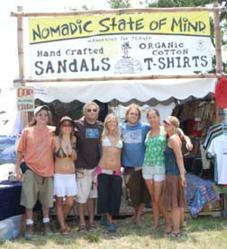 Fayetteville, NC (PRWEB) July 03, 2012
From July 19 - 22 Nomadic State of Mind, a sandal company from North Carolina, will be continuing their summer festival tour at Gathering of the Vibes in Bridgeport, CT. The grassroots company will be selling their handmade sandals, hemp flip flops, organic apparel and more at the four day festival and the crew is looking forward to the good music and good times they have come to expect with this being their 8th year at the festival.
With summer now in full swing the company only has a few live events left for the season so it's a great time to swing by their booth. Their traditional rope sandals have become a festival necessity as the unofficial "official festival footwear."
Why are the sandals perfect for dancing the day and night away in any weather condition the summer may bring? They are lightweight and flexible so it is just like walking barefoot, but with protection. The adjustable back strap keeps from flinging mud at your calves or losing your sandals in a puddle. For those people traveling with minimal gear, they can be washed off and thrown in a bag for easy travel (no need to worry about airline weight limits) and when festival goers get home, the sandals can be power washed or thrown in the washer and dryer with the rest of their stuff to remove the festival-funk that inevitably will come home with you.