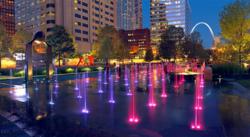 St. Louis, Missouri (PRWEB) July 01, 2012
It's straight A's for St. Louis. The readers of AAA Midwest Traveler have named St. Louis the "Best Large City for a Weekend Getaway" in the magazine's Best of the Midwest poll. St. Louis topped second place Chicago and third runner up Kansas City in the annual opinion report.
"We are very proud that Midwest Traveler's readers have once again demonstrated their appreciation of all that St. Louis has to offer its visitors," says Brian Hall, chief marketing officer of the St. Louis Convention & Visitors Commission. "Midwesterners have amazing options when it comes to drivable weekend getaway destinations. Being named the best by those who are frequent travelers in our region makes it even more special."
St. Louis' vibrant music scene, exceptional dining and the variety of festivals and attractions were cited by AAA readers as reasons that St. Louis topped their weekend getaway chart. The results of the entire poll appear in the July/August issue of the publication which is available online at http://www.AAA.com/Traveler.
This is the third consecutive year that the Gateway City was selected best in the "large city for a weekend getaway" category. Votes were submitted by the well-traveled Automobile Club of America's members from Missouri, eastern Kansas, southern Illinois and southwestern Indiana. AAA Midwest Traveler has a circulation of more than 550,000.
Other St. Louis hospitality industry businesses were recognized as "Best of the Midwest" in their categories: the Gateway Arch, best attraction; Tony's, best fine dining and the Moonrise Hotel, best small hotel.
For more information about St. Louis' attractions, special events and hospitality offerings, visit the St. Louis Convention & Visitors Commission web site.
###
Follow St. Louis on Twitter and Facebook for all the latest information on what's happening in the Gateway City. http://www.facebook.com/ExploreStLouis; http://twitter.com/explorestlouis
MEDIA NOTE: For photography of St. Louis, send an e-mail to pr(at)explorestlouis(dot)com.
For up-to-date information about St. Louis, your readers can call the St. Louis Convention & Visitors Commission at 1-800-916-0040 or check out our web site at http://www.explorestlouis.com.