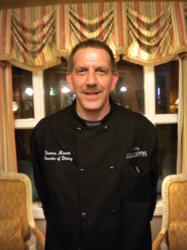 Melbourne, Fla. (PRWEB) July 01, 2012
Watersong, a retirement community located in Melbourne, Fla., announced today that Thomas Minotti has been hired as the community's Director of Dining Services.
In his new position, Minotti will oversee Watersong's dining program which features flexible dining options, a wellness menu and gourmet entrees. Minotti is an experienced chef who most recently served as Dining Services Director at Ridgefield Crossings where he was responsible for all daily operations of the community's dining services department.
About Watersong
Located in Viera, Fla., Watersong is an all-inclusive, luxury retirement community featuring three exclusive, on-site restaurants and access to Duran Golf Club. The community's care-free lifestyle helps members live longer, healthier and happier lives by offering an array of amenities including maintenance-free living, daily fine dining, weekly housekeeping, a nationally recognized wellness program and on-site health services. Members can choose from a variety of floor plans including single-family cottage homes and condominium-style villas. Assisted-living and memory-care rooms are also available for those who need to make a transition from independent living. More information about Watersong is located at http://www.Water-Song.com.