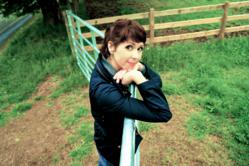 Music is more important than people realize. It isn't just a thing. It finds it's way into your invisible places and it settles in with you there, like nutrition for the soul. ~ Heather McCready
(PRWEB) July 02, 2012
After listening to Bing Crosby tunes and watching cheesy but hopelessly lovable Andrews Sisters' videos on YouTube, folk singer/songwriter, Heather McCready, got the inspiration she needed to create her fifth CD in 5 years.
"I was feeling torn about about the direction of this CD. As a singer-songwriter, I write and sing my heart, so I was reluctant to do a CD full of somebody else's songs. Yet, I realized one day that it made me really happy when I listened to old songs like "Swingin' On a Star " and "Zip-A-Dee-Doo-Dah"! Because I battle depression myself, I know I need things that lift my spirits. As an artist, I have found that the one thing people seem to appreciate most about my music is the peaceful and calming effect it has on them. I discovered much of what is out there now literally drains the life out of me and happy songs have sadly gone very decisively out of style. But, I think we would be wise to take a look back and see what we can learn from this. Why are we so sad and angry anyway? That is my question. And despite my wish for some of the cheerfulness of yesterday, I do not take for granted the achievements in artistic honesty we have today. I am grateful artists like myself have the freedom to write about our pain, our loneliness and our demons. After all, the silence of yesterday bred the stigmas we are fighting today! However, I truly believe that even if all the false smiles of the populations in those years were taken away and the raw truth of their emotions were exposed, I still don't believe we would see anywhere near the volume and level of anger and depression that we are experiencing as a society today. I am on this mind journey right now exploring what I think the reasons are for this and I am planning on writing about this every month leading up to the release of my CD. And this CD will reflect the hope that I wish for all of us. Sort of like a reset button or a musical change of subject. Instead of pouring out more sadness into the air, I decided to take this opportunity to take great old songs that I have loved forever and remake them into something I hope people will be able to appreciate in a whole new way today". Watch for Heather McCready's sneak peak single in July!
Heather McCready has been a featured guest multiple times on television and radio broadcasts in the USA as well as being enjoyed on radio stations across the world. Most recently, Heather McCready's songs "Clarity" and "Maybe" from her album, "Give It a Day" were played on National UK Radio BBC 2.
Look for Heather McCready's Facebook Pages, "Heather McCready Music" and "Join Heather McCready to Fight For Mental Health Awareness" and visit her website http://www.HeatherMcCready.com for more information about her folk music and advocacy for mental health.