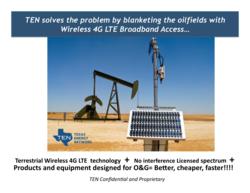 Houston, Texas (PRWEB) July 09, 2012
The Houston Chronicle in its recent "Chron 100" report has named oilfield communications company Texas Energy Network, LLC as one of the Houston "Tech Startups to Watch".
Through the use of 4G LTE, licensed spectrum and patent pending customer premise devices,TEN supplies the oil and gas industry with remote high speed data communications.
LTE ("Long Term Evolution) is a standard for wireless data communications technology and an evolution of the GSM/UMTS standards. The LTE specification provides down-link peak rates of 300 Mbit/s, uplink peak rates of 75 Mbit/s and QoS provisions permitting round-trip times of less than 10 ms. LTE has the ability to manage fast-moving mobiles, and support for multi-cast and broadcast streams. The architecture of the network is simplified to a flat IP-based network architecture called the Evolved Packet Core (EPC). The simpler architecture, among other aspects of LTE results in lower operating costs and a vastly improved user experience.
Combined with 700 Mhz spectrum, which propagates over huge areas, and patent pending oilfield access devices, TEN has created the perfect platform for the energy industry's mission critical data coming from rigs, offices, tank batteries and the like.
The companies website can be accessed at http://www.texasenergynetwork.com