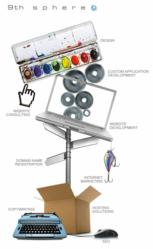 Not a dull day can go by in this industry - it doesn't sleep. Last year was full of new endeavors and next year will have more.
Toronto, Ontario, Canada (PRWEB) July 03, 2012
9th sphere, Canada's leading web design and Internet Marketing company, is proud to announce the beginning of its 15th year in business. After a decade and a half of experience, knowledge and expertise, the beginning of a new year is always the commencement of the challenge to exceed the goals of the year before.
In the last year, 9th sphere has taken great strides in achieving goals that lead towards future growth and expansion. In October, an office move marked the beginning of a new tenure in midtown Toronto at Yonge and St Clair. The move has provided greater access to clients, and the large pool of talented individuals that have been added to the internal team. Shortly after the move to Toronto, a newly designed website was launched with, updated content, more case studies and a rich pool of content around website and internet marketing best practices in the corporate blog, Insights.
This last year 9th sphere added two more awards from the 2011 W3C Awards competition, for a total of awards 12 won to date. The W3C Awards recognize excellence in website design and development, standards that 9th sphere upholds in each and every project.
In keeping with lofty aspirations to be leaders in the industry, 9th sphere presented at four different sessions and was an event sponsor at one of Toronto's leading internet marketing conferences, SES Toronto. These internet marketing conferences focus on learning and sharing within the industry, a prerogative that is important to uphold. 9th sphere has also become part of the Better Business Bureau, and now holds an A+ grade.
The 9th sphere team has also been working closely with third-party teams at both Twitter and WordPress. After being selected as a beta tester for Twitter's new ad campaign platform, the internet marketing team has had the opportunity to become familiar with the platform before it is made public, and provide their feedback and suggestions for improvement to Twitter. The latest WordPress release has also offered the opportunity to communicate with the WordPress team regarding the themes that 9th sphere developed for the blogging platform. The new release offers new features and improvements to the latest versions of the platform.
On top of this, 9th sphere had the pleasure of working on some exciting new client website projects, ranging from unique startups, to TV personalities; fashion designers to custom cabinet makers; diamond investors to financial corporations, and everything in between. The projects varied in size and scope, but ranged from simple brochure sites to eCommerce, integrated with third-party platforms, and complimented with internet marketing services to improve online branding and traffic.
Ezra Silverton, President and Founder of 9th sphere, said: "Not a dull day can go by in this industry - it doesn't sleep. Last year was full of new endeavors and next year will have more."
About 9th sphere
With over 15 years in the business, the 9th sphere team are experts in web design, web development, internet marketing, and SEO services. Committed to delivering innovative and results-driven work, 9th sphere is a great source for companies and individuals wishing to redesign and improve existing web business performance. Visit them at http://www.9thsphere.com