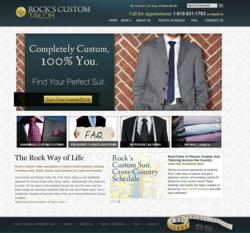 Los Angeles, CA (PRWEB) July 01, 2012
Rock's Custom Tailor, a specialized retailer of customized suits and fine clothing, has launched a new website to better serve their thousands of custom men's clothing customers. The new website allows customers to browse different fabric swatches and match them to customized options to tailor their suit to their liking. This feature will offer thousands of polished wardrobe options ranging from formal to casual.
As far as options, the new launch offers over 200 suit fabrics and 100 shirt fabrics. In conjunction with added personalized features, customers have over 1,100 shirt and 380 suit possibilities. Rock's Custom Tailor has agreed to provide free shipping to all customers that utilize this customized clothing feature. To ensure consistency in repurchases, Rock's Custom Tailor offers free membership to maintain personalized sizes and measurement as well as discounts and coupons.
Mr. R.M Rock, owner of Rock's Custom Tailor, has spent over 40 years meeting clients and giving them the perfect fit and quality they come to expect. The launch of the new website has proved successful in continuing this tradition.
"We decided to build a new website to help our valued men's business clothing clients to simply order additional suits, and accessories at any time they want. With our Client's measurements and preferences digitized for easy reference, when an order comes through, we can fulfill it the same as if I was there with my measuring tape. The response has been better than expected!" said Rock.
The new http://www.RockTailor.com website also allows Clients to purchase high quality, off-the-rack shirts at a great price. Mr. R.M. Rock has personally picked and verified the quality of all the off-the-rack products the website offers. He adds, "I personally guarantee you will like the quality of all our pre-made shirts and other items."
Mr. R.M. Rock has been in the tailoring industry for over 50 years and has been suiting up America's corporate elite for over 40 of those years. Rock's Custom Tailor also offers a cross-country appointment schedule to ensure an accurate fit.