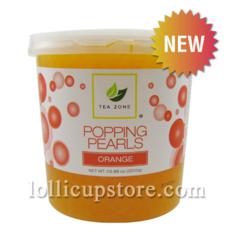 Originating in Asia, Popping Pearls, also known as "popping boba" is the latest sensation quickly picking up in mainstream Europe.
CIty of Industry, CA (PRWEB) July 02, 2012
This July, give your taste buds a burst of flavor with refreshing beverage offerings from LollicupStore.com. Topping off this month's offers are Tea Zone® Popping Pearls and Juice Poppers, the new craze entering frozen yogurt shops and cafés nationwide. In addition to the add-ons, LollicupStore.com will be highlighting a series of summer-inspired menu items on selective brands – Dr. Smoothie, Tea Zone®, Big Train, and more.
Pop into summer with the perfect add-on to your drink. Originating in Asia, Popping Pearls, also known as "popping boba" is the latest sensation quickly picking up in mainstream Europe. Each popping pearl is about 3/8 inch in diameter and contains concentrated fruit juice. Starting July 1-16, Tea Zone® Popping Pearls, available in Mango, Strawberry, Orange, Lychee, and Yogurt, are priced at only $19.95/jar. Meanwhile, Juice Poppers, an alternative to popping pearls, are available in Mango, Strawberry, and Passion Fruit with a starting price of $16.95/jar. This summer, be sure to add Tea Zone® Popping Pearls or Juice Poppers to your favorite drinks; they burst with flavorful fruit juices when biting into it, and are ideal with slushies, smoothies, flavored teas, and milk teas. LollicupStore.com also covers the perfect popping pearls and beverage combination by introducing quick and easy beverage recipes. Visit LollicupStore.com for products to customize your summer treats; these easy beverage recipes are delicious, and the flavor combinations are endless.
Perk up your day with Dr. Smoothie's ready-to-blend natural fruit smoothie mixes. Featuring no high fructose corn syrup, no artificial colors, flavors or preservatives, Dr. Smoothie's 100% Crushed Whole Fruit Purees and Classic Purees are a filling breakfast or satisfying healthy snack with essential vitamins and minerals. They are also healthful sources of carbohydrate and powerful antioxidants. Pricing starts at $10.25/bottle. Also featured this July are Monin Fruit Smoothie Mixes retailing for only $6.95/carton. Enjoy a variety of award winning flavors – Mango, Peach, Strawberry Banana, Wildberry, and Strawberry. Awarded Specialty Coffee Association of America's "2012 Best New Product – Specialty Beverage", Monin Fruit Smoothie Mixes are made with real fruit in popular flavors and provide a great way to include fruit and minerals into any diet.
Looking for some crowd favorites? Tea Zone® and Big Train will help you create the ultimate summer party drinks. All through the month of July, Tea Zone® Powders, starting for as low as $10.50/bag, are available in a wide array of flavors such as Taro, Honeydew, and Matcha Green Tea. Big Train Powders are also on sale starting from $16.75/bag. Coming in various flavors including Vanilla Latte, Java Chip, and Caramel Latte, Big Train Blended Ice Powders are rich and indulgent, yet cool and refreshing. Big Train No Sugar Added Vanilla Chai Tea Powder and Big Train No Sugar Added Vanilla Powder are low calories alternatives that provide the great taste Big Train is known for, without the added sugar.
Looking for a way to beat the heat? Take advantage of these refreshing summer sips from LollicupStore.com to quench your thirst and please your palate. For more bi-weekly promotions and deals, please visit LollicupStore.com and join the mailing list.
###
About Lollicup® USA Inc.
Lollicup® USA Inc. is headquartered in City of Industry, California and is widely known for retailing bubble tea drink products under the Lollicup® Coffee and Tea and Lollicup® TeaZone® brands. Lollicup® USA Inc is also the largest distributor in the United States for premium Italian Torani syrups and sauces.