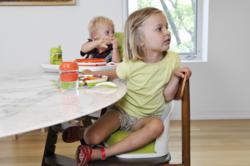 Parents already trust OXO in their home and it was a natural fit to extend that to their whole family through OXO Tot.
New York, NY (PRWEB) July 02, 2012
Smart Design is pleased to announce that their design work for the new OXO Tot brand has been honored with the IDSA Gold award for the OXO Tot Booster Seat and Bronze award for the OXO Tot Feeding Line.
Recently, OXO wanted to enter the crowded children's market with a comprehensive line of products that raised the bar for both kids and their parents. With thousands of bright and colorful baby products on the market, they asked their strategic design partner, Smart Design, to find a way to help create a brand and product line that would distinguish OXO Tot's offerings in the saturated retail space.
Davin Stowell, Smart Design's CEO says, "The Tot brand is a perfect, strategic move for OXO and we were pleased to help them define the brand, packaging and a full line of products. OXO's trusted name was a great place to start – parents already trust OXO in their home and it was a natural fit to extend that to their whole family."
With products that fit both parents and kids, the whole OXO Tot line enables smooth transitions from baby to big kid; whether it's from high chair to booster seat to big chair or sippy cup to adult cup. The products are functional and portable to accommodate families' on-the-go lifestyles. Designed with a mid-century modern aesthetic, they fit in with any home environment without compromising kids needs or parent's individuality.
"For more than 20 years, Smart Design has been one of our trusted design firm partners" says Alex Lee, President of OXO, "Together, we have designed hundreds of items all based on the design philosophy of Universal Design, OXO's foundation. OXO Tot is one of our newest lines and we couldn't be happier with the OXO Tot Booster Seat and Feeding line receiving this recognition from IDEA."
The OXO Tot Booster Seat and Feeding Line grow with children through their various stages of development as they learn to self-feed.
The OXO Tot Booster Seat positions children three years and up at the perfect height for the family table with the help of a comfortable 3" cushioned seat and supportive backrest. The Booster folds into itself, creating a compact, easy to carry and store, plastic container with integrated handle. We put safety first with non-skid feet and a rounded base to keep kids and the Booster securely in place. (Last year, the Booster seat's big brother, the OXO Tot Sprout Chair, won an IDEA Silver, a "best of the best" red dot, and an iF Product Design Award.)
The OXO Tot Feeding Line includes sippy cups, plates and bowls, baby spoons, self-feeding fork and spoon, and snack cups. The OXO Tot Sippy cup collection offers several spill-proof solutions for teaching baby how to drink like a big kid. Weighted for stability, the OXO Tot Plate and Bowl set has a non-slip base so it stays put on the table. The OXO Tot Fork and Spoon have generous, contoured, angled handles that are easy to hold while scooping yogurt or piercing pasta.
Media Contact:
Thomas Isaacson
Associate Director of Marketing
+1 212 807 8150
thomas.isaacson (at) smartdesignworldwide (dot) com
About Smart Design
Smart Design has been turning insight and innovation into successful consumer experiences for over 30 years. Our strategic approach integrates product and brand to ensure winning solutions. Smart Design's consistent results are delivered by our multi-disciplinary, international staff working in teams across offices in New York, San Francisco, and Barcelona. http://www.smartdesignworldwide.com
About OXO
Founded in 1990 on the concept of Universal Design, OXO's mission is to create consumer products that ease the tasks of everyday life for the widest range of users possible. Since the original 15 items were introduced, the OXO collection has grown to more than 850 strong covering cooking, cleaning, gardening, storing, organizing, lighting, and the office. Today OXO Good Grips products are sold in more than 70 countries and are included in the permanent collections of numerous museums. The company has won more than 100 design and business awards worldwide. OXO is frequently used as a case study on how a well-executed Universal Design philosophy can be a successful business strategy. OXO, headquartered in New York City, is owned by Helen of Troy Limited (NASDAQ, NM: HELE), a leading designer, producer and global marketer of brand-name personal care and household consumer products.