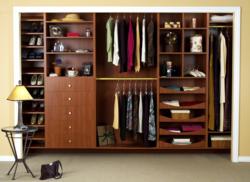 Orange, CA (PRWEB) July 01, 2012
Home Franchise Concepts® is proud to introduce Tailored Living® featuring PremierGarage® – a new home improvement company that gives homeowners across the country easy access to organized living. Tailored Living offers convenient and free in-home consultations backed by years of design experience for a smarter home organization approach. The company uses innovative, high quality and stylish products to offer organizational solutions for every room in the home including closets, home offices, garages, pantries and laundry rooms.
Tailored Living's experienced in-home organization specialists can recommend customized solutions to fit any budget. Because everyone deserves a home that also feels like their retreat, Tailored Living is there to organize all their belongings to maximize space and decrease stress.
All Tailored Living consultants have access to D'Vinci™ – a proprietary interactive design software. The program allows consultants to complete project designs in minutes, right in front of the customer. Whether a homeowner needs help designing a custom home office or garage, D'Vinci will create stunning visuals and an accurate parts list for every project. The combination of vivid graphics and virtual walkthrough capabilities creates a powerful presentation tool that will help homeowners select the best home organization product solutions to fit their needs.
"We are in the business of creating time-saving solutions that fit your life," says Dan Tafoya, Senior Vice-President of Tailored Living. "With today's busy lifestyles, an organized environment frees more time to spend on meaningful things. Custom design options do not have to be expensive and our expansive line of products provide solutions for every room in a home, from the smallest apartment to the most luxurious home."
In addition to the services mentioned, Tailored Living can also create custom themed garages for sports enthusiasts or vintage car collectors. The capabilities are endless, offering high quality materials, selection and color matching unlike anything found in home centers or big box stores.
With a network of over 130 organizational specialists, it is easier than ever for homeowners to locate a convenient Tailored Living location in their area and access creative storage solutions. As the largest whole-home organization company in the nation, customers can enjoy the benefits of Tailored Living's unmatched purchasing power and years of design experience to attain a higher return on their investment.
About Tailored Living® Featuring PremierGarage®
Tailored Living began as Closet Tailors in 2006. After experiencing rapid growth, Closet Tailors formed a strategic alliance with PremierGarage in 2010 and changed its name to Tailored Living to better reflect its all-encompassing home organizational solutions. In 2011, Tailored Living acquired the PremierGarage brand name, immediately making it the largest whole-home organization company in the nation. Tailored Living's independently owned and operated franchises proudly offer high quality storage solutions for garages, closets, pantries, mudrooms, home offices and more through complimentary in-home consultations. This includes design, measuring and installation services, specifically adapted to each client's needs. For more information on Tailored Living, please call 1-800-519-6296 or visit http://www.tailoredliving.com. For franchise opportunities, visit http://www.tailoredlivingfranchise.com.