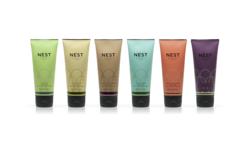 Our exquisitely formulated new Body Wash and Body Cream give our customers yet another way to enjoy a luxurious lifestyle by surrounding themselves in their favorite NEST Fragrances scents
New York, NY (PRWEB) July 02, 2012
NEST Fragrances, a leading manufacturer of luxury home fragrances and personal care products, today announced the addition of Body Wash and Body Cream to its NEST Fragrances collection of home scents. The luxurious new Body Wash and Body Cream will debut in six top NEST Fragrances scents beginning in July at Neiman Marcus stores, Bergdorf Goodman, specialty stores nationwide and at Shop.NESTFragrances.com. The launch of the new body care products marks the company's continued expansion into personal care and beauty.
"Over the past few years, we have been talking with our customers through various social media platforms like facebook and Twitter, and we have received hundreds of requests to develop body care and personal fragrances in our top scents," said Laura Slatkin, founder and CEO of NEST Fragrances. "One consumer wrote, 'I wish I could bathe in Grapefruit and wear Grapefruit cologne!' We are now thrilled to be able to grant that wish and bring these products to market. Our exquisitely formulated new Body Wash and Body Cream give our customers yet another way to enjoy a luxurious lifestyle by surrounding themselves in their favorite NEST Fragrances scents, and we will continue to expand our repertoire of personal care and fragranced beauty products with more new additions in the coming months."
The new Body Wash and Body Cream feature lush and exotic formulas with the finest ingredients and fragrances in stylish packaging designed to bring a new level of sophistication and personal enjoyment to one's shower and daily skin care routine. Meticulously formulated with natural plant extracts, vitamins and anti-oxidants, the luxurious non-drying Body Wash gently cleanses and moisturizes the skin, leaving it feeling soft, revitalized and refreshed. The rich and indulgent Body Cream features conditioning botanical extracts, skin-nourishing vitamins and shea butter, leaving skin silky soft and velvety smooth. Both products are lightly infused with NEST Fragrances' most beloved scents: Bamboo, Grapefruit, Moroccan Amber, Moss & Mint, Orange Blossom and Wasabi Pear.
NEST Fragrances Body Wash and Body Cream are available in 6.7 Fl. Oz. (200 ml) tubes. Body Wash retails for $28 and Body Cream retails for $32.
To obtain product samples and high-resolution images, contact Tim Rossi (contact information above).
About NEST Fragrances
NEST Fragrances (NEST) is a leading manufacturer of luxury home fragrances, personal care products and fine fragrances. Founded and owned by Laura Slatkin, who has a long-standing reputation as a leader in the luxury fragrance industry, NEST is well-known for its luxurious scented candles, diffusers, room sprays, soaps and lotions, and other essentials for body, rooms and environments. NEST's client list currently includes more than 75 prestige companies in the fashion, beauty, retail and home fragrance industries, all of whom turned to NEST to develop their own exclusive lines of home fragrance and personal care products. In 2008, Slatkin launched her own home fragrance and personal care collection, NEST Fragrances, which won the 2009 FiFi Award for Interior Scent Collection of the Year. NEST draws on decades of experience in the fragrance industry with a special expertise in designing, developing, producing, distributing and marketing home fragrance collections that capture each client's unique brand image and style. For more information, visit http://www.nestfragrances.com.