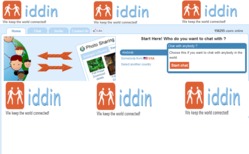 New York, NY (PRWEB) July 01, 2012
Men and women can now engage in entertaining love chat with the help of Iddin's latest chat application. This online chat tool is known in several communities for its global reach and ease of access. The Iddin chatroom has also a client base of up to one hundred thousand users, thus expanding the chance of communication within a given time. Iddin is also known for its speed in connection and reconnection.
One of the most notable features of Iddin is privacy filter. Because of this feature, Iddin users are not prompted to give out their personal information. This has benefited a lot of users, especially those who care about their privacy. This also prevents personal information leakage—one of the problems with major chatrooms today. The Iddin development team has noted that love chat is common in the chatroom nowadays. Everyday, men and women will look for online dates. People prefer Iddin over other chat applications because of the spontaneity that it brings. Since no personal information can be present, strangers can assume different identities.
Back then, the Iddin chatroom received neutral reviews from chat communities. To deal with this, Iddin developers tweaked the application continuously, maintaining its global speed. They have also added a photo upload feature so that strangers will be able to see each other. The Iddin team has also noted that strangers with uploaded photos can chat online effectively.
To ensure that people will experience a new web chat experience, the Iddin team is always pursuing more upgrades and developments. This dedication has helped many strangers connect with each other in the shortest time possible. Adding to that, strangers can chat free without being bothered by ads or other pop-up windows. In the following months, the Iddin team is planning to branch out to other communities, especially those that are tackling adult dating.
About Iddin
Iddin is a free web application that specializes in generating random chat with strangers. Users can choose the locations of the strangers, or they can have the engine to search the whole world. Random chat is encouraged to protect the identity of people and also to empower spontaneous connection that is fun and interesting. Users can visit Iddin chatroom to discover its features.