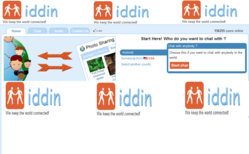 Omaha, NE (PRWEB) July 01, 2012
Adult chat is now common in the cyberspace, based on the hundreds and thousands of websites created for this niche. The Iddin Live team, keen on the prominence of various market niches, has decided to launch an online chat tool that can help adult men satisfy their whims. The Iddin chat tool, despite its entertaining nature, is mostly adult-oriented since strangers are looking for dates. The Iddin tool is also known for its relative spontaneity and immense global reach.
Iddin's new web chat tool has a photo upload feature that has benefited a lot of adult males. Through this feature, they managed to upload their photos, raising their chance of meeting females by more than 50%. Usually, adult males upload photos of their faces and bodies, in order to chat free with their respective dates. Some males, on the other hand, are just looking for steamy chat moments with other females.
In the Iddin chatroom, strangers are not prompted to give out their personal information. Despite this, it is still under the discretion of strangers. The Iddin team has noted that some strangers tend to give their Facebook emails, hoping to expand their social networks. Iddin team has no qualms about this, but they encouraged strangers to become extra careful. The Iddin free chat tool is also known for its high global reach, spanning all major cities around the world. A stranger can connect to any country that he desires.
The Iddin team is always dedicated to the improvement of the premise of spontaneous and random chat. Through this, people all around the world will always be entertained and they can seek for dates at an easier rate. Lately, the Iddin team has branched out to several dating communities, and they received mostly positive reviews. To deal with the influx of new chatters, the Iddin team will conduct numerous platform upgrades.
About Iddin
Iddin is a free web application that specializes in generating random chat with strangers. Users can choose the locations of the strangers, or they can have the engine to search the whole world. Random chat is encouraged to protect the identity of people and also to empower spontaneous connection that is fun and interesting. Users can visit Iddin to discover more of its features.