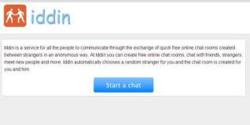 (PRWEB) July 02, 2012
Iddin Live has recently launched an online chat application for women. This chat tool is known for its ease of access and high rate of global connectivity. Adding to that, the Iddin chatroom has a normal chatter base of more than one hundred thousand, thus the potential for communication is really high. The Iddin chatroom has also been introduced in various online communities, especially those that are related to dating and social networking.
In the latest version of Iddin chat tool, chatters can now upload their best pictures. They can now share it to strangers across the chatroom. Women can use this feature to attract men and find online dates. The Iddin team has noted that strangers who chat online with uploaded photos tend to maintain conversations for a longer time. Nevertheless, connection and reconnection in Iddin chatroom happens in just seconds. The Iddin chatroom has also appealed to middle-aged women who are also seeking for husbands and hours of online fun.
Back then, the Iddin free chat tool has struggled when it comes to online ranking. This is because of the rate of communication when it comes to the field of chatting. To achieve a better online rank, the Iddin dev team has redoubled its efforts and branched out to several forums and message boards. The developers have also tweaked the application so that it will run smoother and with lesser technical glitches.
The Iddin dev team will always ensure that not only women will have a satisfying web chat experience, but also everyone as well. To commit to this, the developers are planning for several upgrades and developments. These upgrades will happen in few months, in order to help people gain the spontaneous communication experience that they need. The Iddin team is also encouraging Iddin users to send out emails whenever technical errors appear.
About Iddin
Iddin is a free web application that specializes in generating random chat with strangers. Users can choose the locations of the strangers, or they can have the engine to search the whole world. Random chat is encouraged to protect the identity of people and also to empower spontaneous connection that is fun and interesting. Users can visit the Iddin chatroom to discover its features.