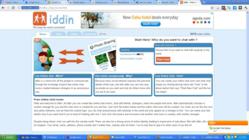 Sacramento, CA (PRWEB) July 02, 2012
Searching for activity partners has been one of the most highly-regarded deeds in the Internet today. This is due to the fact that hundreds and thousands of blogs and websites were dedicated to the pursuit of activity partners. The developers of Iddin have realized the strength of this fact, so they recently introduced an online chat tool that can help people find activity partners worldwide. The Iddin chatroom has been known in different chat communities because of its speed, reliable connection, and large global reach.
Men and women will now benefit from the latest version of the Iddin free chat tool because of its recent photo upload feature and improved global connection. With the photo upload feature, strangers can now share their best photos, increasing their chances of maintaining conversations for longer time. The Iddin team has noted that strangers who chat online with pictures have found 'love matches' in the chatroom. The improved global connection, on the other hand, allows strangers to reach major countries across the globe.
Iddin Live has delved in the premise of random chat for quite some time already. For months, the developers of Iddin have worked tirelessly to maintain the connection speed of the chatroom. Because of this dedication, the chatter base of Iddin has grown to over one hundred thousand daily. This simply means that many people are seeing the Iddin chatroom as a reliable communication tool. The Iddin team has also branched out to various forums, especially those ones related to casual dating, love talk, and adult explorations.
Iddin Live has brought a satisfying web chat experience for hundreds and thousands of chatters online. For this positivity to push on, the Iddin development team will pursue more upgrades and developments in the coming months. This will ensure that the Iddin chatroom can maintain its connection speed without too much technical errors.
About Iddin
Iddin is a free web application that specializes in generating random chat with strangers. Users can choose the locations of the strangers, or they can have the engine to search the whole world. Random chat is encouraged to protect the identity of people and also to empower spontaneous connection that is fun and interesting. Users can visit Iddin to discover its features.