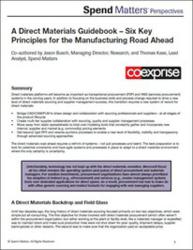 Unfortunately, technology has not kept up with the direct materials evolution. Microsoft Excel all too often remains the operating system…of direct procurement and materials manager.
Wexford, PA (PRWEB) July 01, 2012
Today, Spend Matters published a new Perspectives paper sponsored by Co-eXprise, the leading provider of cloud-based sourcing solutions for the discrete manufacturing industry. The paper, "A Direct Materials Guidebook: Six Key Principles for the Manufacturing Road Ahead," provides direction to manufacturers on the key elements they must consider in the changing landscape of direct materials sourcing. The guidebook looks ahead to the future demands on sourcing and purchasing professionals and navigates the challenges of buying quality materials, anticipating delivery capacity, and managing risk.
The paper goes on to forecast the landscape of the tools used for e-sourcing beyond spreadsheets, email, and indirect sourcing tools.
"The direct materials road ahead requires a rethink of systems – not just processes and talent. The best preparation is to look for potential uncertainty and have agile systems and processes in place to adapt to a direct materials environment where the only certainty is uncertainty."

Jason Busch, Managing Director, Research, and Thomas Kase, Lead Analyst, Spend Matters
The paper can be downloaded by visiting the Spend Matters Perspectives page in the Co-eXprise Resource Center.
About Co-eXprise, Inc.
Co-eXprise is the leading provider of sourcing solutions for the discrete manufacturing industry. Co-eXprise CX4 is a Software-as-a-Service (SaaS) solution designed for managing direct material sourcing and cost improvement initiatives across an extended enterprise of supply partners. Learn more at http://www.co-exprise.com