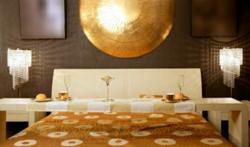 Reach luxurious heights with the charming crystal and chrome bubble- shade chandelier in the dining room.
San Francisco, CA (PRWEB) July 03, 2012
Lighten up might just be every interior decorator's favorite buzz words. It's right up there with shine a light on it and come in out of the dark, oft used colloquialisms that can reference a dim world view of things as well as home décor. To accept design wisdom that home styling is as much about illuminating things as it is about putting things together is to begin to truly lighten up.
KindaChic, a furnishing and home décor website, now offers an illuminating new collection of decorative table lamps, chandeliers and ceiling fixtures, multiple choices for every room. Waste not the opportunity to hang The Passion Eight- Light Ceiling Fixture in a dining or family room. This fixture brings together a modern metal body and sparkling diffusers to add a touch of elegance and appeal. Want not after hanging the stylish Four Light Pendant with a Black Amber Swirl in the living room. Reach luxurious heights with the charming crystal and chrome bubble-shade in the dining room.
Has the inner artist long searched for a new look in decor lighting? Then pair KindaChic's gold hand painted table lamp with any contemporary furniture design to complete the room's style. Another favorite choice is the silver stemmed multi-sphere table lamp, a perfect decor accent as it lights up the space. These lovely illuminations are on sale now at the KindaChic home décor website.